Sacred cows: The secret to A2 Milk's success
Rob Grant sits down with A2 Milk Company's Susan Massasso to discuss the meteoric rise of the milk brand that never discounts.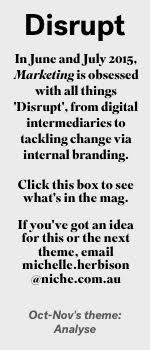 In our current era of relentless retail price-cutting, best epitomised by Coles' famous 'Down Down' campaign, a brand that never runs sales promotions is likely to grab the attention of any grocery marketer in Australia.
It's a remarkable claim for any brand, and especially one in the fresh milk category, once considered the most commoditised of all. During the 'milk wars' of 2011, many wondered just how low milk prices could go.
A2 Milk now claims nearly 10% of a gigantic market worth $1.4 billion in 2014. It even finds itself among the exalted company of Coca-Cola, Nestlé and Cadbury in the top 20 list of all branded products in the supermarket (excluding tobacco).
Yet the A2 Milk Company was only founded in 2000 and started operating as a brand just eight years ago. From a base in Australia, it is now taking on the might of the established dairy industry across the world. It does so with fewer than 40 employees and a marketing team of fewer than 10.
The numbers represent an exceptional performance, and naturally prompt marketers to ask, like a bedazzled audience at a magician's show, how do they do that?
Single-minded scientific spirit
The secret to A2 Milk's success is hardly a secret at all. In many ways, it simply adheres to a few of marketing's classic tenets, ones all too easily forgotten in today's frenzied business environment. But it does this with a laser-sharp focus other brands find hard to maintain.
Susan Massasso is the chief marketing officer of A2 Milk and a passionate believer in the mantra 'do one thing and do it well'. Over coffee, fittingly in a branch of the health-food retail chain, About Life, she passionately explains that the company is solely focused on one discovery that drives one brand and one company focus.
"It brings an extraordinary amount of single-mindedness, agility and ambition. We may not have the scale and stature of many other types of branded businesses around the world, but a lot of those businesses also have significant brand portfolios. So how much focus do their individual marketers have?"
To further understand what drives A2 Milk's success requires a return to its New Zealand origins, a look across the Pacific Ocean to Silicon Valley and a brief lesson on genetics.
Although the A2 Milk Company was founded relatively recently, the origins of its success go back further. As a university student, Dr Corran McLachlan researched the effects on people of the different types of proteins in dairy products. Previous research had discovered all cows originally only produced milk containing one type, the A2 beta-casein protein. Over time, a genetic mutation meant a new A1 protein appeared in herds. It started in Europe and eventually spread globally.
McLachlan identified a correlation between people drinking A2 milk and improved health. Specifically, many people, though certainly not all, who think they are intolerant to lactose, the sugar in milk, are not. It is sometimes just the A1 protein that disagrees with them. Once McLachlan realised this discovery had commercial application, he partnered with New Zealand businessman Howard Patterson and founded the A2 Milk Company.
The two originators were hardly typical of those starting a grocery brand and certainly not a dairy business. As Massasso recounts: "They weren't marketers, they weren't farmers, they weren't manufacturers and they didn't have a lot of milk to sell. The origins are more similar to a Silicon Valley IT business than a co-op."
The principles of IT start-ups are also part of the DNA of A2 Milk: agility, speed and collaboration. In the early days and for most of the early 2000s, A2 Milk focused on technology, research, patents, trademarks and global intellectual property licences.
"The company started as a technology business. It had no intentions of originally being a brand," says Massasso.
"It started from the kernel of an amazing, profound discovery that was quite disruptive and became an IP (intellectual property) business. The real turning point was around 2004 to 2006 when there was a distinct shift in the strategy. It evolved from being an IP-led business backed by a brand, to a brand-led business underpinned by a significant portfolio of science knowledge."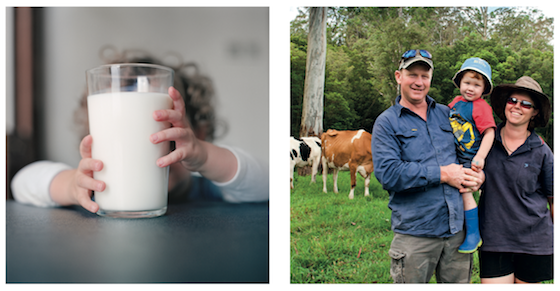 Harnessing the right people (and cows)
The research-based, academic origins of A2 Milk also guide the audiences with which it engages. Health professionals, such as general practitioners, dieticians, nutritionists, naturopaths and paediatricians, are treated as if they are as important as consumers.
Massasso outlines why this is vital: "There is significant investment in educational programs with healthcare professionals. For people with an issue, to be told there is a solution from someone who understands the science speaks volumes. It is what makes our brand really sticky."
It is smart thinking given the company size. Rather than use a tiny budget in mass communication channels, where you'll realistically only reach a few, it's better to delight a smaller group who can credibly influence many, many more.
In more recent years, wider-scale communication to consumers has been required, but it hasn't been easy. Scientific jargon is fine for someone with a masters degree in nutrition and dietetics, but it is meaningless to a busy mother. The real benefits of A2 Milk are to the consumer, the person who has for years shunned healthy, versatile and tasty milk, for the wrong reasons.
Consequently, understanding the benefits of A2 Milk and the downsides of consuming regular milk shapes how market research is used in the business. No dollars are wasted seeking a profound new insight, as this is quite clear – people would love to consume milk, but they are held back for health reasons. Rather, an emphasis is placed on deeply connecting with consumers. "We're not trying to find a new opportunity, so our research is different," says Massasso.
"Because the brand has such a profound effect on its target, really understanding that consumer, being able to get under the skin of that person, becomes really important."
After a few wrongs turns, with messages either too feature-rich or scientific, a real turning point was when A2 Milk focused on the direct physical and emotional benefits.
To do this, first it had to break the classic code of milk advertising: no cows, no fields, no farms. Instead, in a 2011 pioneering campaign, it used real people talking about the benefits the product brings them. Stories of consumers were brought to life in intimate detail with personal testimonials on its website. For outdoor and print media, simply-shot images of real buyers and the product were accompanied with a 'Thank you A2' line.
Despite a clear focus on benefits, the message is still not easily condensed into a 30-second commercial. Certain complex topics that must be covered – such as the way A2 Milk uses DNA tests to select the cows that produce only A2 proteins – are especially difficult. Therefore, multiple touch-points are used by A2 Milk to connect with consumers.
Massasso believes this makes the brand quite disruptive in dairy. "We very much need to leverage the broader set of communication tools. Harnessing social media and online discussion, especially among groups within the community that have felt a difference. Our brand relies on modern media techniques that are quite distinctive in the world of milk and dairy," she says.
Ultimately, the most powerful message underlying A2 Milk's communication is the one told by people who couldn't previously drink milk and now can. In the UK recently, the brand used this idea in a campaign with the tagline 'Welcome Back'. Although it sounds like a friendly greeting, it's actually quite provocative. Massasso explains: "We're telling people this is real milk for those who can't drink milk. I mean, that's a pretty disruptive statement. We're different. Not all milk is the same."
A glass half full for retail
Bringing people back to milk is manna from heaven for retailers. For years, the milk category had suffered declines in dollar sales with consumers switching to non-dairy alternatives or trading down to cheaper, mainly private label products. Now it is back in value growth and, although A2 Milk can't take all the credit, there is a correlation between the time the brand started to take off and the category return to growth. Optimism is back for dairy, thanks to A2 Milk. The category approach for A2 Milk is again one based on classic thinking: help deliver growth to the category and the retailer will back you. It even drives growth in two different ways. First, it attracts new or lapsed consumers to grow household penetration. Second, A2 products are a huge premium to the average per-litre cost of most milk products. 145% higher than market leading private label brands, according to a 2014 study. So dollar spend per unit is increased too. Win, win.
It's no surprise A2 Milk's relationships with retailers are, in contrast to those of many FMCG companies, quite rosy. Massasso considers this a vital driver of success. "The retailers have been incredibly supportive over the last few years and have rewarded our growth with increased distribution and support in-store. And we're unique with a very loyal customer base – the retailers want unique propositions," she says.
From 2007 to 2014, A2 Milk grew on average 47 percent each year. Excellent results by anyone's standards. But with success comes attention, copycats and detractors. Competitors have unsurprisingly reacted to A2 Milk's stellar performance, but in different ways. Dairy Farmers and Pura (both owned by Lion) now use the claim 'naturally contains A2 proteins' across their brands' touch-points. Of course, their products still contain the A1 proteins, but it seems they have seen the success of the new upstart and want a piece of the action.
In complete contrast, the giant Italian dairy firm Parmalat, owner of the Pauls brand in Australia, went for the jugular. The Sydney Morning Herald revealed in May 2014 that a series of damning articles questioning the efficacy of A2 Milk's health credentials were the result of a public relations offensive by Parmalat's agency, Crosby Textor.
None of this fazes Massasso, who shrugs off discussion of competitors. "Oh, I'm not really big on the whole competitive landscape. I mean, one of our competitors dismissed [the idea that] there was anything in the A2 idea and the other is trying associations with A2. Very divergent reactions. Our biggest challenge is the sheer number of opportunities for us. Just choosing what to do and what not to do within our financial boundaries."
However, it's interesting to note that A2 Milk packaging now makes an additional, prominent claim on the front label: the milk that's all A2. This message has also been used in communications since competitors started getting on the bandwagon. It seems the new arrival in the dairy shed still gives the old-timers at least a glance.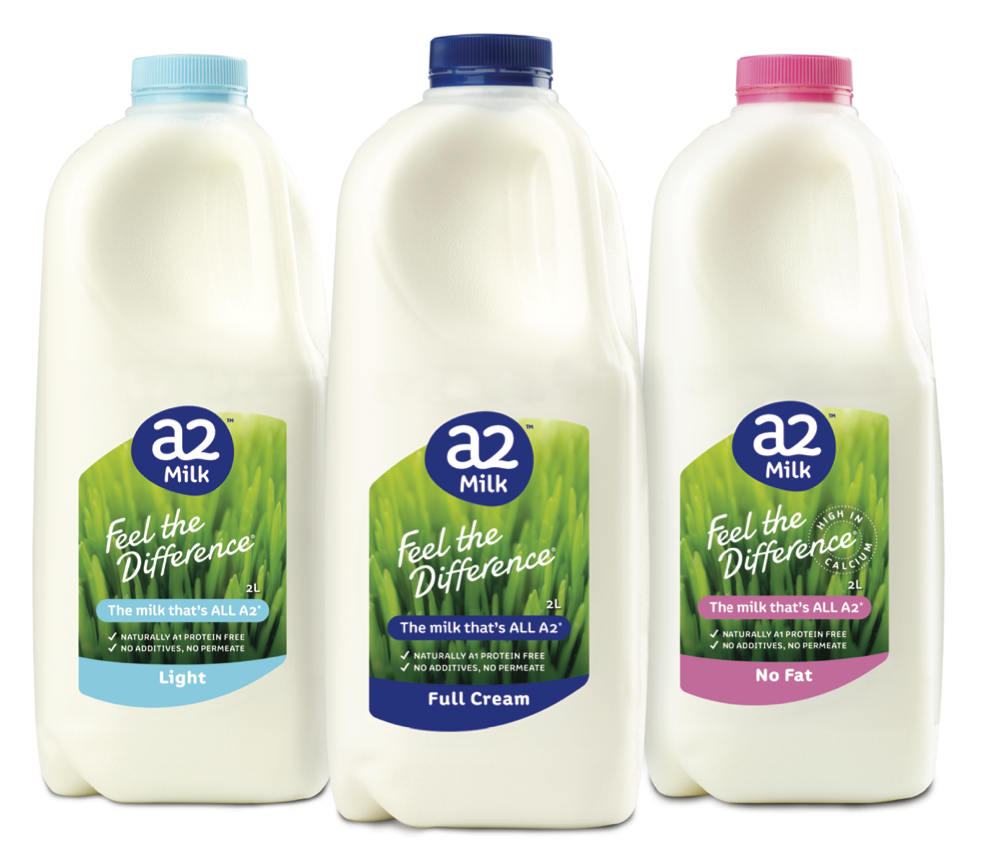 Breeding future success
Looking ahead, A2 Milk will further pursue two main strategies to drive future growth: horizontally into adjacent categories and geographically into large overseas markets. While there is some vertical expansion – its first milk processing plant recently opened in Smeaton Grange, Sydney – this is not seen to be a strategic imperative; there are plenty of willing partners.
A business that owes its success to sharp focus must be careful when it moves into other categories. Stray too far from your core proposition and you lose your point of difference and become distracted. A2 Milk is true to well-defined 'sacred cows' when considering innovation opportunities. Any new product must be A1 protein free, have a milk component and ultimately bring a health benefit to the consumer. To date, the brand has stepped into cream, yoghurt and long-life milk.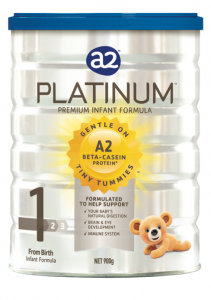 But the big drive of growth is believed to be infant formula, particularly in developing markets, such as China. Babies derive all their early nutrition from milk and have issues with A1 protein just like adults. Offering mums a powdered option with potentially less-negative side effects is seen to be a compelling offer.
Intolerance to A1 protein is not a local phenomenon. In fact, many of the scientific studies into the issue come from the US and UK. It is also believed certain ethnic groups – Asian, Hispanic, African-American and Middle Eastern – have an even greater negative reaction. These factors make global expansion a natural fit with the brand and it is already established with employees in the UK, the US and China, plus partnerships elsewhere.
Given the huge potential of the markets chosen so far, there is no imperative to command a large market share. Just as in Australia, A2 Milk is happy and proud to remain niche. Better to be loved by a few than considered OK by many is its guiding principle. As A2 Milk has shown, in just a short time, if you are onto a good thing, ignore the distractions and milk it.