Netflix leading the streaming race in Australia
Over a million Australians have signed up to Netflix since its launch at the end of March. The subscription streaming service now has three times as many users as its local rivals Presto, Stan, Quickflix and Foxtel Play combined, according to new data from Roy Morgan Research.
Netflix, previously a DVD-delivery service, gained popularity in the US and now produces hit TV shows such as Orange is the New Black and House of Cards. Before its official arrival in Australia, estimates say more than 200,000 Australians were using geo-blocks to access the US and UK content.
Within two months after its official launch in Australia, over 400,000 households had signed up for the streaming service.
Click image to enlarge.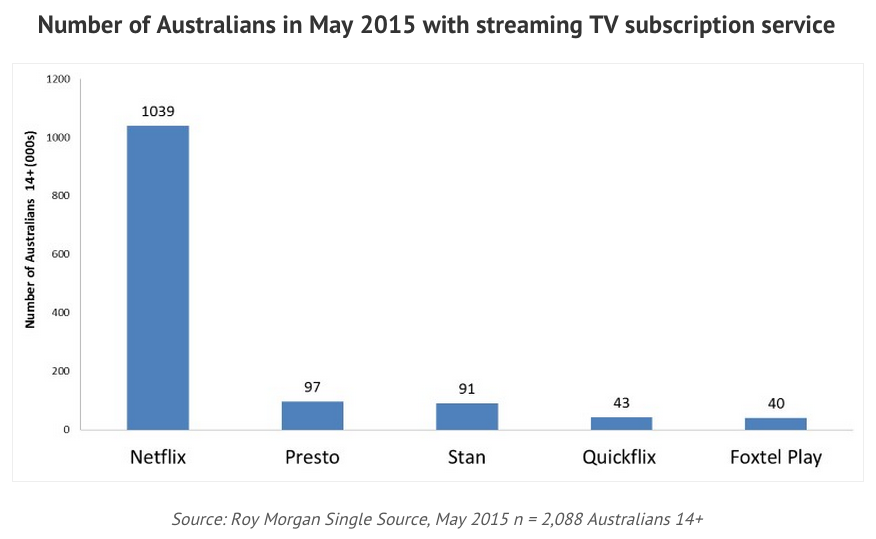 Tim Martin, general manager of Roy Morgan Research, says the battle so far has been one-sided, but that the war is far from over.
"In the streaming video on demand (SVoD) space, Netflix's dominance is clear. Up to half of all subscribers to Stan, Quickflix and Presto are also subscribed – perhaps bingeing for a month on free content across the options, preparing to make a decision about which, if any, earns their continuing monthly spend," says Martin.
All SVoD providers are offering a free trial for users. Netflix, Presto, Stan and Quickflix are giving users a 30-day free trial, while Foxtel Play has a 14-day free trial period.
"But it also might not be an either/or proposition," says Martin. "As each has different content available, many Australian TV lovers may choose to subscribe to multiple SVoD providers, switching between Orange is the New Black on Netflix, Better Call Saul on Stan, the HBO back catalogue on Presto and a new release movie (or delayed Game of Thrones marathon) on Quickflix."
The arrival of Netflix in Australia saw television networks race to keep up with SVoD demand. Presto, the joint Foxtel and Seven West Media venture, launched its TV streaming service in mid-January to complement its already existing movie streaming service. By May 2015, Presto had around 97,000 subscribers.
Nine Entertainment and Fairfax Media launched its SVoD service, Stan, in late January and had over 91,000 subscribers by May.
Trailing behind with 43,000 subscribers was the long-established Quickflix and Foxtel Play with 40,000 subscribers.
The data also revealed that over five million Australians live in a household subscribed to Foxtel, either directly or bundled with other telecommunications services. Of this number, there are around 300,000 who are also subscribed to Netflix.
RELATED: Ricky Gervais reluctantly promotes Optus Netflix deal »