Say Less with Vodka Cruisers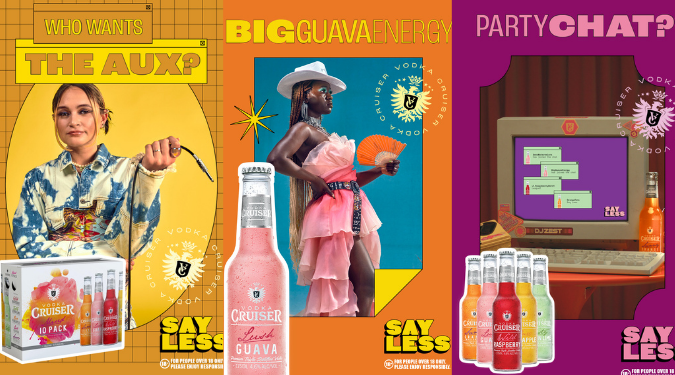 It's a brand that triggers nostalgia, yet Vodka Cruisers have launched a brand platform and a Y2K campaign with the help of all new media.
In a new campaign, the popular drink has created an aesthetic where nostalgia meets Y2K culture. The aesthetic named 'nowstalgia' targets all elements of yesteryear. Vodka Cruisers have targeted these fond memories through the new campaign Say Less.
Say Less is all about being on board. Whether this is being given the AUX cord, an invite to a pool party or even throwing on a pair of servo sunnies. Say Less, say yes.
The campaign is different to a traditional one. Rather than focusing on TVCs and billboards, it will employ new media instead. Say Less will focus on a 12 month PR and content plan across social media, Spotify, Vevo and Twitch.
Bringing the platform to life, Vodka Cruiser is leaning on comedian and creator Lucinda Froomes Price. The newly named brand ambassador is excited to represent that iconic drink.
"I have been obsessed with Vodka Cruiser since I was legally allowed to be, so this partnership has me feeling like Charlie in the Chocolate Factory. I'm beyond excited to be cooking up some fun, fruity ideas for the year ahead and can't wait to share them with my fellow Vodka Cruiser superfans," says Price.  

Vodka Cruiser ambassador Lucinda Froomes Price.
Brand manager of Vodka Cruiser, Michael O'Donoghue is excited about the new platform. "We set out to create a platform that would effortlessly celebrate our past. But it could also pave the way for its future. Fortunately for us, the resurgence of the Y2K fashion trend couldn't be a more perfect fit. We are super excited about how it brings to life the attitude and personality of Vodka Cruiser."
The new brand platform, created by TBWAMelbourne, will feature in PR, social media, Spotify, Vevo and Twitch across the next 12 months.