Schweppes gets messy with new campaign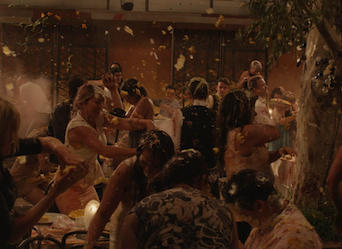 Schweppes' new campaign for its mineral water range involves a 'Fancy Food Fight' that sees three-hatted chef Martin Benn, of Sydney's Sepia restaurant, help create Australia's first ever fine-dining food fight.
Schweppes group marketing manager, Ben Goss says, "Our ads have always had a sense of grown-up fun, but this year we wanted to create an event where people could experience it for themselves."
In the lead up to the food fight, a series of online teasers were released showing Martin Benn and his team experimenting and testing various dishes as they worked to create a menu designed specifically to be thrown. Other than tasting great and matching with the Mineral Water flavours, the dishes were also judged on their range, accuracy, fire rate and 'splat-ability'.
Evan Roberts, GPY&R Melbourne creative director, commented on the campaign "It was important for us to not only create an event that people would enjoy, but also produce a piece of film that was a notch above the usual documentary style. Hats off to Will O'Rourke and Glue, they've really raised the bar with this one."
Check out the behind the scenes clip and the actual food fight below:
http://youtu.be/BNqcFDTYn_8
http://youtu.be/pg9A2i3UKSk