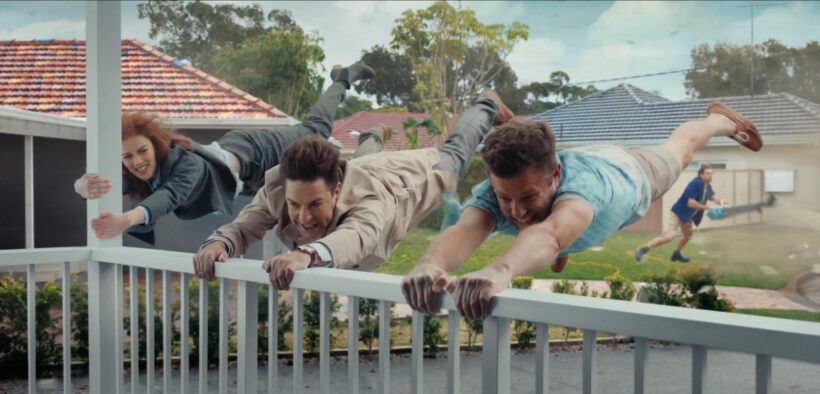 Budget Direct ads are anything but penny-pinching. With 'Blown Away', the insurer has dropped a second cinematic spot in a new series of ads using the established 'Insurance Solved' tagline. 
Live this month, the new 'Blown Away' campaign via 303 MullenLowe features the recurring characters 'Sarge', 'Jacs' and a dog named 'Chief'. Sarge and Jacs explain the benefits of Budget Direct's insurance products to a homeowner, all the while battling a leaf-blower induced tornado created by an over zealous neighbour on a Sunday morning.
Fences and fixtures fly, until eventually Chief pulls the plug on the leaf blower and the homeowner's car crash lands on his roof. But Sarge and Jacs reassure the homeowner he can "relax" knowing his home and car are covered.
Creative campaigns lead to success for Insurance Solved
According to the company, "engaging and entertaining" creative has made the campaign platform "highly successful" at keeping the brand top of mind among consumers.
"Budget Direct has always appreciated the importance of entertaining Australia, while delivering news about its very tangible solutions to insurance conundrums," 303 Executive creative director Bart Pawlak explains.
"The 'Insurance Solved' platform, as embodied by brand stalwarts 'Sarge', 'Jacs' and 'Chief', continues to present the perfect opportunity to inform our audience, while indulging their imaginations and having a little fun.
"Together with world-class production partners in Goodoil, Rattling Stick, Blockhead and Sonar Music, we're consistently able to create stories that thrill, as much as they provoke thoughts about your current insurance arrangements."
'Blown Away' will be seen across TV, BVOD, cinema, OOH, radio, online and more.