Seven loses over $500m after Anzac Day eve blindsiding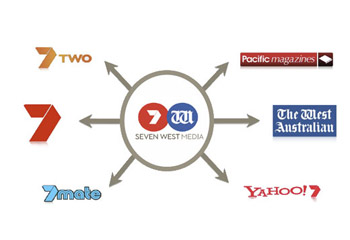 More than $500 million was wiped off the value of Seven West Media's stock at close of trade yesterday, after the company snuck in a profit downgrade late on Anzac Day eve.
In a statement issued after trading closed on Tuesday, Seven downgraded its forecast earnings for the current financial year by around $50 million to a revised figure of $460-$470 million, citing poorer than expected market conditions.
The response as trading opened on Thursday morning was swift as the market responded unkindly to the after-market blindsiding with shares diving 16% from $3.77 to $3.17. Trading throughout the day saw a drop in market value from $2.51 billion to $1.94 billion as the share price closed at $2.91, a new low for the company.
The negativity also spread to other media companies with with Fairfax dropping 3% to 70c a share, Prime Television down 3% to 72c, Southern Cross Media down 5% to $1.30, while Ten fell 1% to 81c as concern for the sector infected rivals.
Seven cited an expected improvement in the advertisement market that did not materialise as the primary factor in the downgrade.
In a letter to investors company secretary Peter Bryant said: "Throughout the current financial year (2012) the wider advertising market has trended below the prior year. The group anticipated an improvement in those conditions in the final quarter of the current financial year.
"Based on conditions now becoming evident in all segments (TV, Newspapers and Magazines), the previous expectations of the market strengthening in the final quarter are unlikely to be met."