Shining a spotlight on the census
Campaign: Spotlight (spotlight.abs.gov.au)
Client: Australian Bureau of Statistics
Agency: Leo Burnett, Sydney
Background
In 2011, the Australian Bureau of Statistics was preparing for a census: the official count of the population and its characteristics. The Australian Census happens every five years and provides data that helps guide decisions about many things that affect our lives, including infrastructure, transport, education and the environment.
Unfortunately, many people saw the Census as little more than an obligation, affecting participation rates and, as a result, the quality of information gathered. Beyond a lack of interest in the general population, the Census was facing a worrying trend of increasing under representation from several key groups. Of these undercount groups, the most significantly under represented was Gen Y.
More disturbingly, research showed that Gen Y were actively choosing not to participate. We needed to show them why the Census matters, and convince them that it's more than just a bureaucratic exercise.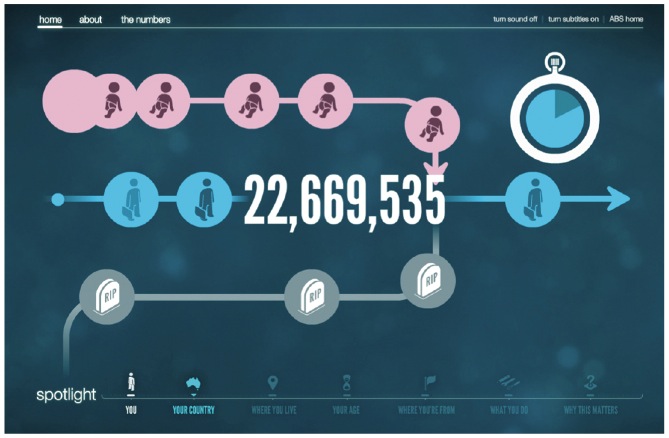 Objectives
The key objectives were defined as follows:
actively dispel the cynicism that Gen Y have towards most government initiatives,
increase engagement levels with Gen Y and encourage interaction in the lead-up to Census night, and
increase participation of Gen Y in the Census to be in line with the overall population.
The main challenge we faced was finding a way to connect with and generate interest among this audience. We knew that they would be difficult to reach through traditional means, and that they typically tune out to mainstream communications – especially messages from a government department.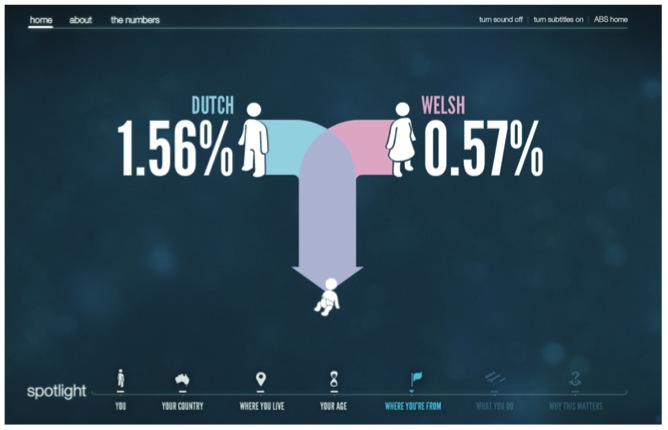 Strategy
From a strategic perspective, we realised that one of the biggest issues with the Census is that people don't understand how it relates to and affects their own lives. They are so far removed from the data and the decision-making process that they can't see how their own contribution will make a difference.
The Census needed to step away from its heritage as a compulsory government initiative and stand for something aspirational – we needed to find a compelling benefit so people wanted to participate. By helping people understand the true value of the data they provide for themselves and their community, we showed them that their contributions to the Census would shape the country's future, making participation more desirable.
We took the communications away from 'compulsory' to participation for a better Australia, and a better future. We also knew that statistics and data weren't the most popular subjects on our audience's minds. So, instead of focusing our communications on the Census itself, we focused on something we knew our audience would be interested in: themselves.
We decided to create compelling content to show them in a very real way how the Census relates to their own lives, using Census data to bring a story to life that's ultimately all about them.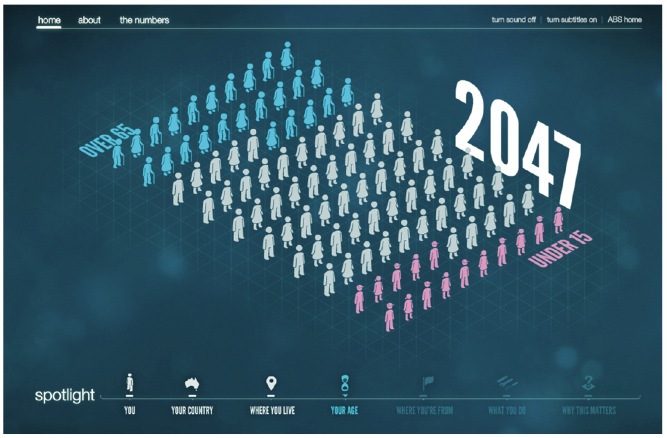 Execution
We knew that our audience would be difficult to target, especially via traditional means. So, instead of pushing a message at them, we created a unique, talkable and engaging digital experience called Spotlight.
Launched in the weeks leading up to the Census, Spotlight is a personalised interactive film that shows how all that data relates to you as an individual.
Spotlight uses existing Census data to create a story about each visitor to the site: who they are, where they live, where they're from and what they do.
After launch, social media was key to getting the word out and building our audience. We seeded Spotlight with influential bloggers, sites and on Twitter, and through the Census' own social channels. We also knew that giving people a simple way to share and talk about their experience – beyond the standard 'like' and 'share' links – would be a powerful way to build our audience. With this in mind, we built a unique sharing mechanic into the site. Once users have completed their Spotlight experience, the site generates a unique infographic for them – a personalised self-portrait based on their Census data.
This infographic could then be shared across the users' own networks through Twitter and Facebook, attracting more visitors to the site and building momentum for the campaign. The creative idea was simple: shed some light on Census night and help create a brighter future for Australia. We deliberately kept the tone of Spotlight as far as possible from feeling like a standard government communication, and bringing the content to life in an engaging way was of primary importance.
Central to this was making the data feel relevant to the user. By showing them information about themselves, and adapting the raw numbers to relatable scenarios, we were able to put Census data in a different context. We used animation and humour to keep the content fun and engaging.
We also made the experience fully accessible for all users by concurrently developing an alternative version that made the same content available to the highest accessibility standards.
Ultimately, we made as much of the experience as possible about the person experiencing it. Instead of talking about the Census, we made it truly relevant to them.
Results
Spotlight is an innovative, inclusive and inspiring idea that brings 'your' Census data to life. Spotlight successfully reached its notoriously evasive Gen Y target and engaged them with something they had previously been actively dismissive of. And it changed the way people look at Census data, making it relevant to them and driving interest in the Census itself. In just a few short weeks, and without paid media support, this government website about statistical data was visited by more than a quarter of a million people, each spending on average more than four and a half minutes with the content. By Census night, the site had generated 37,000 unique infographics, which were viewed more than 61,500 times and earned more than 4500 'likes'.
The large numbers of people coming to the site from social networks further evidences the shareability of the content.
User data from Spotlight indicates that more than half of our visitors were from Gen Y – even though they only account for 30.9 percent of the population – showing that our previously disinterested target audience were now actively engaging with us.