Snickers campaign adopts a pricing model tied to online sentiment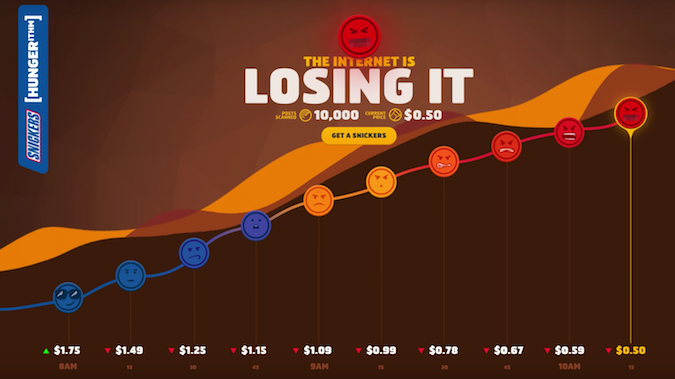 Snickers and 7-Eleven have launched 'Hungerithm', a campaign which gauges the mood of the internet and adjusts prices for Snickers bars in 7-Eleven stores.
Mars chocolate bar brand Snickers has launched a unique POS campaign in partnership with 7-Eleven that adjusts the price of a Snickers depending on the internet's 'mood'. The 'hungerithm' gauges the mood of the internet and lowers the price of a Snickers bar as the mood drops.
It builds on Snickers' global creative platform, 'You're not you when you're hungry'.
Created by Clemenger BBDO Melbourne, the system is built on a 3000 word lexicon and analyses 12,000 social posts a day to determine mood. Then prices in store at 7-Eleven are updated – up to 140 times per day.
"Considering how quickly the internet can swing from a place of sharing and enlightenment to one of incredible vitriol, we felt this was the perfect opportunity to bring the 'you're not you when you're hungry' platform to life," says Clemenger BBDO Melbourne executive creative director Ant Keogh.
"A data-led idea that changes the price of a global FMCG brand is an amazing opportunity, to launch it at scale through 7-Eleven is something else again," says Keogh.
'The internet is an angry place, but what if that's because we're hungry?' Video for the campaign asks.
At the time of publishing this article, a Snickers was 78 cents.
Customers keeping an eye on fluctuating prices are able to lock in a price using their smartphone.
–
Related: Flavoured milk brand Oak's campaign to 'kill hungrythirsty dead' on Snapchat »
–
The campaign, which is running via social, video, digital, outdoor, POS and PR, and will run through until June 27.
"We're hoping this shows consumers that Snickers is on their side during trying times, and we plan to satisfy even more hungry consumers by rolling the Hungerithm out globally in 2017," says Renee Lewington, Snickers marketing manager at Mars Australia.
Here's the 60-second spot:
https://youtu.be/GFVcR760kY8
* * * * *
Upgrade to Marketing Pro for detailed analysis of some of Australia's most successful campaigns.
* * * * *