Snickers recruits video bloggers to prank their viewers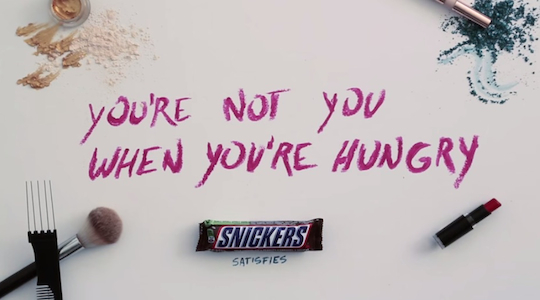 Snickers has expanded its 'You're not you when you're hungry' message to YouTube, enlisting a string of video bloggers to prank their fans by posting videos shot as if they were hungry, and therefore out of character.
A week late for April Fools Day, 13 popular 'how-to' YouTube vloggers from eight countries have posted videos doing their thing in unpredictable moods, each finishing with the Snickers 'You're not you when you're hungry' message.
The vloggers represent multiple languages as well as various hobbies and activities – ensuring the Snickers message reaches a range of consumer groups.
"Between them the international vloggers in this campaign have over seven million subscribers, generating huge global reach for this innovative digital extension of our campaign," said Allison Miazga-Bedrick, Snickers brand director, as quoted in AdWeek.
It's the same concept as a UK campaign from 2012 that saw model Katie Price and footballer Rio Ferdinand send a series of out-of-character tweets before revealing it was a paid endorsement for Snickers. That campaign attracted complaints to the UK advertising watchdog, which were dismissed.
The current vlogger campaign includes 13 channels from eight countries, a selection of which we've included below.
Ultimate Handyman – Top DIY Hacks
Normally this guy posts videos showing how to do things like replacing silicon around a bath and putting up shelves. Here he is with his top tips: apparently toothpaste serves as a great silicone replacement and if you don't have a spirit level, you can always just measure with your nose.
Unbox Therapy – Worldwide exclusive?
This tech gear vlogger regularly hits YouTube with his videos showing him unboxing and reviewing new products. But he finds this stark white box, with unknown contents, a bit of a challenge to get open. Cue chainsaw.
Jessica Harlow – How to let yourself go
This usually-glamorous beauty vlogger created this video showing how to 'let yourself go'. Steps include putting on a comfortable set of sweatpants and building a long poking device to use when you're too lazy to get the TV remote.
Fine Art-Tips – How to draw a perfect face
Leonardo Pereznieto's fine art tutorials demonstrate how to draw precise, realistic images. But not this one – it follows the exact same serious tone to all his others, except the 'perfect face' is an out-of-character cartoon mess.
F2 freestylers – Learn to beat the defender
These football skills coaches are less than top of their game in this video, losing the ball to their skinny defender who just stands there looking bored and confused as they fumble around the field.
Goliath Guitar Tutorials – The fastest selling song of the year
Maintaining an absolutely straight face, this guitar tutor demonstrates how to play an out-of-tune aural disaster as if it is this year's next big hit song.