Ubet overhauls physical betting environment following rebrand
TattsBet has kicked off its rebrand to Ubet by opening its first new retail store in Brisbane, which aims to modernise and digitise the in-store betting experience.  
The new Ubet store in New Farm will function as a 'lab store' for punters to test the experience and provide feedback. After final modifications, the 1200 TattsBet outlets nationally will be transformed into Ubet stores over the next three to four years.
Design and branding agency Hulsbosch helped develop the 'next generation' retail wagering concept, based on significant research into understanding how to improve the wagering experience for customers.
TattsBet relies heavily on retail, representing 70% of its business. Amid increased competition, the company has embarked on the rebrand in order to ensure it remains relevant.
TattsBet chief operating officer Barrie Fletton says: "Since the corporate bookmakers entered Australia, there has been fierce competition in the market. There is a huge increase in betting brands but we have a distinct advantage in that we have a 1,200 outlet-strong retail footprint.
"Our investment is significant and promotes our intention to lead the category."
The "short and sharp" new name, Ubet, puts the customer at the heart of the experience, he said.
"We have put the 'you' in betting and this personalisation is epitomised in our new retail stores."
READ: Recall for sports betting brands shifts during AFL/NRL grand finals and Spring Racing Carnival, TattsBet rebrands to UBet »
Hulsbosch creative director Linda Jukic says the redesign will take advantage of the company's retail footprint and help it appeal to a younger audience. The primary focus is a digital framework that reflects today's technology, including integrated tablets and own-devices, as well as being adaptive for future technological developments.
"Our aim for the retail space was to create an atmosphere of a massive, exhilarating sporting arena and communicate this as a total sensory experience. This enables different behaviours and levels of engagement to take place.
"For example, multi-coloured grandstand seating invites a longer and more individual immersion whereas bleachers supports more dynamic social interaction."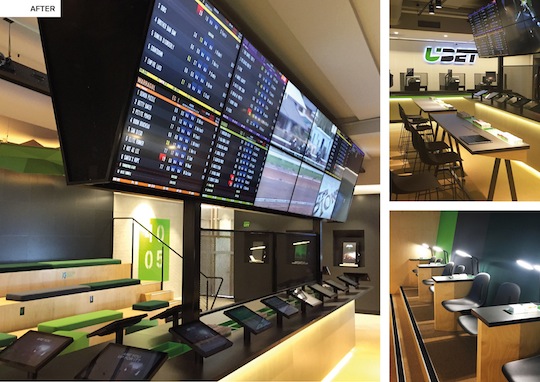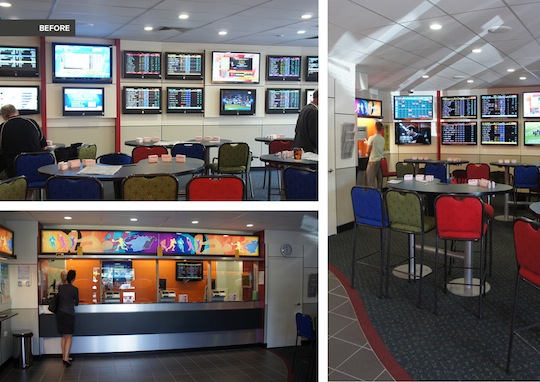 READ: BetEasy rebrands to CrownBet to align with Crown Resorts brand »