So you need a mobile website?
With the acceleration of mobile everything, the onus is now on marketers to leverage their customers' rapidly growing use of mobile devices to discover, explore and buy. As more and more consumers use smartphones and tablets to browse and research brands, marketers need sound mobile strategies in place to ensure that this consumer touch point resonates and delivers true engagement.
Indeed, over the past two years alone, Google has seen mobile search queries grow fivefold. And more than a third of mobile Google search queries have local intent. People are using their mobile devices to navigate the physical world, and you have to plan for that and build it into your strategy.
I'm sure I don't need to remind you that we're almost at the point where more internet browsing will be performed on a mobile device than a traditional desktop – so there really is no time to waste.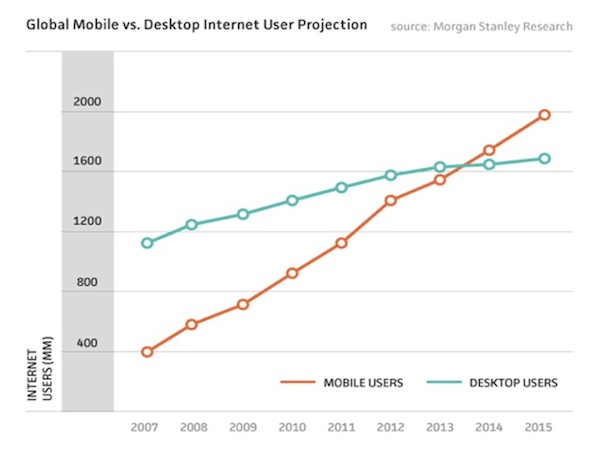 Brands have to map out a very clear direction for mobile which includes the development of a full mobile web experience that incorporates measurement, acquisition and commerce.
Of course, embedding mobile into your marketing strategy is not rocket science, but it does need careful consideration. Using the POST methodology – People, Objectives, Strategy, Technology – first you need to understand the mobile behaviour of your target audience: what devices they use, what times of the day they use them, and how sophisticated their usage.
Then develop your mobile marketing goals, and work through brand awareness, acquisition, retentions and loyalty strategies. Determine the best approach to meet your objectives.
Lastly you need to select the technologies. For most businesses, you have to consider the wide range of devices that your customers use and not design for one device or operating system.
You also need to understand how you can leverage your existing web investment for mobile consumption. While your website can be viewed on a mobile device, without optimisation, it presents a poor user experience. So job one is to pinpoint the content that mobile users will find useful and valuable to them as they browse on the go, and optimise that content. Think about your website from a mobile user perspective; apply standards for format and how users will use your content, understanding how to use location information.
Like website design, mobile sites need to follow a process which starts with conducting research to create mobile personas and then scenario design development. Next wireframes need to be developed detailing the user experience, content and functionality.
Then you move onto design where a new set of design practices come to the fore and where simple navigation is key. Nowhere is clumsy navigation so irritably felt and so zealously dismissed than on a mobile device. On a mobile, you don't get a second chance.
Once design is approved, you move through to the build stage and integrating the mobile site with your CMS. In this way you use a single source of the truth for your web and mobile sites and so will only need to update content in one place to have it display on desktops and mobile devices – whatever they are.
That said, it's critical to understand that writing for mobile is a craft and one that is very distinct from writing for the web. You see, just as you had to embrace a new style of writing for your website that was markedly different from your existing product brochures and marketing materials, again you need to embrace a whole new style of writing for mobile. In this space, less is certainly more, and it's an area that a lot of brands will struggle with but you have to cut content and reduce word count.
As Jakob Nielsen points out: "A mobile site should have less information about each product and fewer things users can do with the products, but the range of items should remain the same as on the full site. If users can't find a product on a mobile site, they assume the company doesn't sell it and go elsewhere."
So, your challenge is to minimise content without reducing the number of products you display.
Remember, what's critical here is to put the user first. You need to figure out what content they need on the go and how the mobile experience provides the springboard to seamless brand experiences whether online or in the physical world.