We Are Social leverages adult colouring book craze with Bad Moms 'adults only' version
We Are Social has created a Bad Moms themed colouring book to promote the film.
To publicise Roadshow's upcoming comedy Bad Moms, creative agency We Are Social has launched a colouring book with a difference.
The colouring books are littered with images of skulls, barbed wire, drinks and messages such as 'mummy needs a drink', and 'suck it'.
"Like crying alone in your car, colouring is a cathartic release from the stresses of modern-day motherhood," the cover of the book explains.
"These beautifully illustrated scenes are designed to channel you into a pre-kid mental state, allowing you to let go of the bullshit and just have fun again," it continues.
The 10-page book is being circulated to some patrons of the movie which releases today in Australia, and to media and social influencers.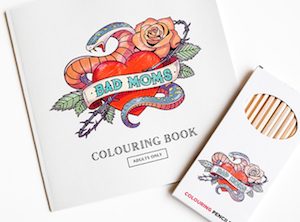 "There's a real social truth that at the heart of every great mum is just a little bit of a bad one," says We Are Social managing director Suzie Shaw.
"These tattoo-parlour-gone-wrong designs reflect that," she says.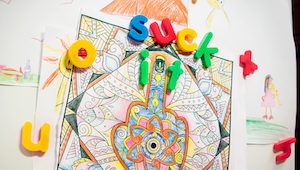 Roadshow is happy with We Are Social's work on the project, leveraging the colouring book product trend. "They brought a great idea to the table and we really enjoyed bringing it to life together," says Nicole Byrnes, Roadshow product marketing manager for Australia and New Zealand.
Colouring books are enjoying a resurgence among adult consumers, who enjoy the relaxation and escapism of the pastime they enjoyed as children. At Christmas time, they sold well as a stocking filler.
–
Related: John West's 'Chef Bear' social video ad series promotes its new Fiery Range »
–
Millie Marotta's Secret Garden, and Millie Marotta's Animal Kingdom are examples of popular titles in the genre, but it remains to be seen if the Bad Moms colouring book – or the movie itself – will prove popular.
The book joins the TV and theatre advertising push, as well as out-of-home and social #BadMoms campaigning for the film.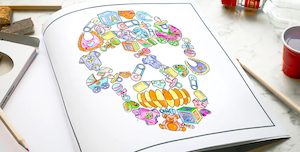 * * * * *
For the latest insight, case study and opinion on Australian brands and campaigns, purchase a subscription to Marketing
* * * * *