Sony teams with Ten on smart TV content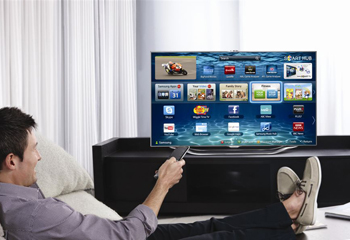 Sony Australia and Network Ten have joined forces to launch a new catch-up TV channel for Sony's connected TVs, in a coupe in the content fight between consumer 'smart' TV brands.
The channel will go live in June, making Sony the first to offer a catch-up TV service from Ten direct to a smart TV. Catch-up content is currently available for Channel Ten programming on the network's website but, according to Sony, the integrated channel will provide easier access and superior picture quality on the big screen.
Channel Ten will join SBS, ABC and Seven as free-to-air networks making integrated catch-up services available on Sony smart TVs, which offer a total of 29 channels including Billabong, ABC iView, SBS, PLUS7 and WiggleTime TV, as well as songs from its Music Unlimited service and on-demand blockbuster movies from Video Unlimited.
Rival Samsung also offers a subscription music streaming service, Wiggle Time TV, PLUS7, ABC iView, as well as AFL & NRL Game Analysers, NineMSN apps, and on-demand movies and TV shows from two sources – Quickflix and BigPond Movies, TV and Sport. Quickflix, the Australian-based online movie rental company, offers access to movies and TV shows from studios such as HBO, NBC Universal, Lionsgate, Sony Pictures and MGM.
The smart TV category is starting to heat up according to market data from GfK retail tracking, with a 54% increase in the number TVs with web content accessibility sold during the June to December period last year.
However, while penetration looks to be reaching critical mass levels, many TVs remain unconnected, according to figures from Telstra, as users struggle to adapt to the more interactive experience of smart TVs than traditional lean-back programming. GfK's ConsumerScope study estimates that as many as 43% of smart TV owners intend to connect their sets, but are yet to do so.
The growing availability of on-demand movies, music channels and catch-up TV services on smart TVs is driving a dramatic change in the way people watch TV according to content partnership manager at Sony Australia, Sharon Ashworth. "Smart TV services are as much about quality as they are quantity," Ashworth says.
The channel will feature catch-up episodes from a selection of Ten's programs including Bondi Vet, The Graham Norton Show and The Bolt Report.