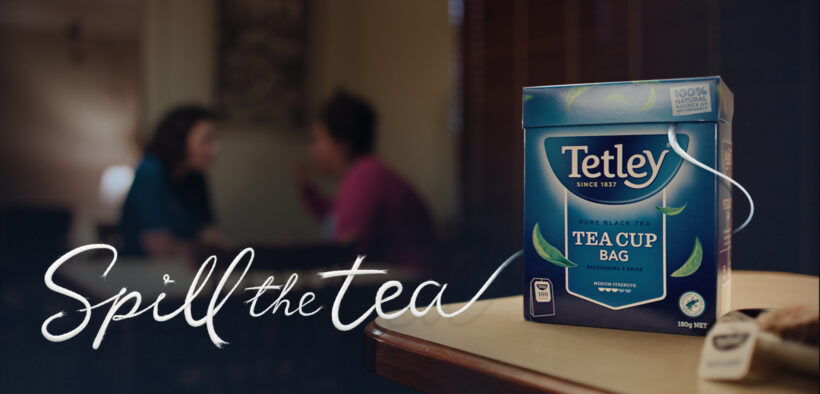 Tetley has released an iconic rebranding campaign that aims to reach a new generation of consumers. 
The campaign, developed by 303 MullenLowe, taps into the need for connection and the desire to disclose the truth about something juicy. 
The campaign has adopted the expression 'Spill the Tea' used by the younger generation in the hope to unite these consumers over a cup of tea and exchange gossip, secrets, personal confessions, controversial opinions or exclusive news.
The activation is across all film, outdoor, radio and social platforms, aiming to tackle consumers aged between 15 to 35 who don't view tea as an option when catching up with friends. 
The brand believes that the younger generation chooses to participate in a love affair with coffee, craft beers and non-alcoholic substitutes. To tackle this, chief creative officer at 303 MullenLowe, Bart Pawlak explains the strategy behind the Tetley campaign.
"Positioning Tetley as a catalyst for the type of connection that, if online habits are anything to go by, younger Australians love to indulge in most – sharing hot gossip, scintillating secrets and eyebrow-raising revelations – in a way that is perhaps more present than what coffee or alcohol can offer," Pawlak says.
"Best of all, we had a ready-made brand platform, entrenched in the target audience's current vernacular. All that was left for us to do was spill it." 
Tetley is appealing to the younger generation by enticing them to have a conversation over a cup of tea. It's trying to phase out drinking culture and bring in a healthier option.
Managing director at 303 MullenLowe, Joanna Grey, explains the power of tea and phasing out the drinking culture. 
"The fact is, unlike alcohol which comes with a spectrum of consequences increasingly shunned by younger Australians, or coffee which is used more as an accelerant while on the go, tea has the unique power to make people pause, be more present and let the conversation start flowing," Grey says.
"This is something we identified in the strategy development as a growing need among a generation that's ironically feeling more disconnected than ever, and knew it would form an important consideration in the creative."
The rebrand challenge
Tetley is a British tea that is over 180 years old, which has appointed 303 MullenLowe Sydney to lead the rebrand across Australian platforms. 
TATA head of marketing ANZ, Divya Shrivastava, explains the challenges in rebranding a company that is rich in heritage and has an older customer base.
Shrivastava says, "The challenge for us was to find a way to reinvigorate the Tetley brand and in doing so reposition the entire category in the minds of younger audiences – without alienating our loyal 55+ customer base." 
"The result is a brand platform with a tonality that is unfamiliar in what can sometimes be a conservative tea category, and as such it quite effortlessly elevates Tetley out of the clutter.  And it will no doubt see more Australians Spill the Tea with Tetley." 
Want to see more creative campaigns? Read how Espolòn Tequila are shaking things up ahead of the 'Scream VI' premiere.