Spotify launches with local partners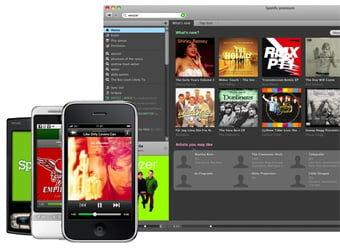 Spotify, the world's largest on-demand music provider, launched in Australia overnight, boasting Commonwealth Bank, Carlton United Brewers, McDonald's, and Triple J as commercial partners.
The Sweden-based company brings access to more than 16 million tracks to consumers, for free if they put up with occasional advertising or for a premium to access the service without ads, and available on mobile devices.
Ad options will include banner ads and audio spots, for which the service has already signed a number of parties including, but not limited to, Commonwealth Bank, Carlton United Brewers, McDonald's, and Triple J, The Australian reports. Global partner Coca-Cola is also expected to extend its advertising and app agreement to Australia.
Spotify's business model is based on a dual revenue stream: free access supported by advertising through banner ads and audio spots, and premium access priced at a monthly rate without ads and bolstered by mobile access based on an app. Premium access costs $11.99 a month, giving users offline access, access via mobile app and a high data allowance, which is limited to 10 hours of streaming per month for free users after an initial 30-day trial.
Its launch was delayed by more than six months while it negotiated deals with the major record labels in order to offer the most extensive music library possible. Record companies are paid a royalty by the service each time one of their songs is played and receive a percentage of the subscription revenues Spotify generates.
Spotify's New York-based chief marketing solutions officer Jeff Levick told The Australian, "We will have the largest, most comprehensive online catalogue of music in Australia. It's not just the major labels, it's also about having local labels. In every market… we make sure we have local artists relevant to that country.
"Australia is an incredibly important music market for Spotify, it's the sixth largest music market in the world. Consumers in Australia are online and highly social, and love music. So that's the perfect trifecta for Spotify and exactly the sort of consumers we want to reach."
While the service will compete with paid services, such as iTunes and a similar streaming service from Telstra due to launch this year, Levick says it also cuts down on piracy of music, returning profits to the music industry.
"We're bringing revenues back to artists and labels, reminding people that music is an art and craft. We paid back 250 million (AUD$324m) to the music industry in Europe last year. That was money that was basically lost to piracy."
Spotify relies on sharing and its Facebook integration, which lists tracks people listen to in their friends' news feeds. Users can also subscribe to playlists created by friends, brands or celebrities.