Square's 'say to pay' mobile wallet means even less friction
Payment solutions innovator Square has released a new 'say to pay' system that could be set to make mobile wallet transactions truly 'frictionless'.
In 2010, Square launched a credit card reader in the shape of a tiny white plastic square that plugged into an iPhone's earphone jack allowing anyone to charge customers using a credit card. Copy cats soon followed, with a number of similar versions launched including one from PayPal.
With this new extension, dubbed Pay With Square – which can already be found in 75,000 stores in the US – users don't even have to take their phone out of their pocket to pay for a coffee or item. The system picks up when registered users enter the store via GPS and displays your name and photo on the retailer's iPad, so that you only have to verify your name in order to pay. Credit card details are stored in the user's smartphone, theoretically negating the need to carry any cash or plastic at all.
By providing a digital cash register and recording buyer behaviour the system has the potential to revolutionise loyalty programs and targeted deals, as well as arm customer service staff with information to use at the point of sale.
Available on iPhone and Android, the consumer-side app lists registered businesses so that users can discover new stores near their current location and allows businesses to offer deals, such as 10% off the first visit. First visit deals, 10th-visit rewards and other bonuses are pre-set into the system to allow retailers to quickly deploy reward tactics.
An iPad 'Register' app enables merchants to manage deals and transactions as well as analytics and information on sales history. Both apps are free to use, although the merchant will be subject to Square's usual 2.75% fee per transaction.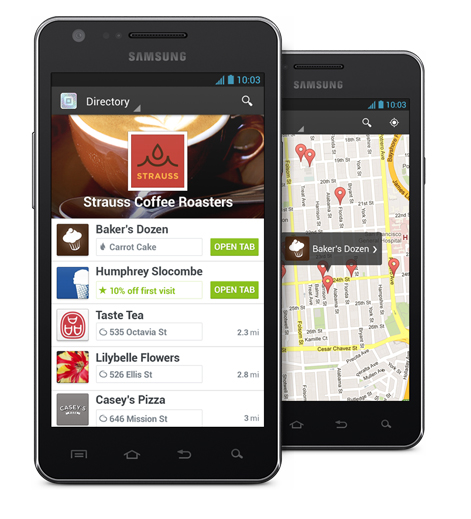 Not to be outdone, PayPal has also launched a service similar to Pay With Square – PayPal Local, which works with the company's card reader as well as with existing commercial electronic registers, made by companies like Leapset, ShopKeep, Vend and Erply. PayPal says 50,000 stores have registers that can be upgraded with the PayPal Local software, if the shop owners so decide.