Steve Waugh cycles for charity in virtual reality with Fitness First members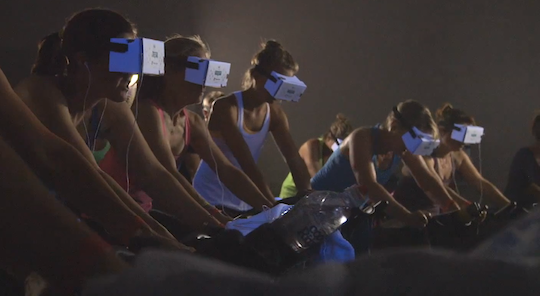 A virtual reality experience which enables participants to ride alongside Steve Waugh on his inaugural Captain's Ride aims to increase awareness of the charity event.
The six day, 920km bicycle ride from Sydney to Byron Bay sees former Australian cricket captain Steve Waugh joined by 60 other 'captains of industry' to raise awareness and funds for children and young adults with rare diseases.
Running this week for the charity ride's duration, the 360 degree virtual reality experience will give  participants in Fitness First Bondi spin classes the chance to to 'cycle with Steve'.
The experience is made possible via a GoPro camera mounted to a bike riding alongside Waugh, and Google Cardboard VR headsets and an Android phone in the gym.
"When Steve first approached us to support the ride, we knew we had to think of something truly innovative that has never been done before in Australia," says James Wright, COO of campaign partner Havas Worldwide and MD of campaign partner Red Agency.
"For us, the key proposition was bringing this to life for everyday Australians. We wanted to do something that would connect them to the ride and make the experience of supporting children with rare diseases as personal as possible."
The Steve Waugh foundation takes a holistic approach to supporting those in the 0-to-25 age bracket with the rarest diseases, working to improve their quality of life.
"The rare disease patient is the orphan of the health system, often without diagnosis, without treatment, without research and therefore without reason to hope," Waugh says.
"This is why the Steve Waugh Foundation exists. The Australian rare disease community is growing, with a leading number of medical and advocacy groups joining together to give those living with a rare disease a voice."
Each day's ride is dedicated to a particular child suffering from a unique rare disease. Today it's Mark who suffers from Pelizeaus-Merzbacher disease.