Media news: Melbourne Cup live stream and tweet activity, EMMA audience data, OOH growth
In Australian media news this fortnight, Yahoo7's first live stream of the Melbourne Cup a success; #melbournecup attracts 7.7 million tweet impressions, EMMA releases print/web audience data, OOH industry records tenth month of YOY growth while MOVE reports fifth year of OOH audience growth, Twitter's 'favourite' feature becomes a 'like', the ACCC will not oppose Foxtel and Ten acquisitions, Frankie founders launch new magazine, Lunch Lady, and SBS is set to launch new Food Network channel.
Yahoo7's first Melbourne Cup live stream sets record
Yahoo7's first-ever live streaming of the Melbourne Cup on its Plus7 app this week set a new Australian record with 488,000 live streams throughout the day.
More than 300,000 people watched the main race via mobile or desktop devices.
"Based on stats on concurrent users and peak traffic, yesterday's live stream of the Melbourne Cup on Channel 7 was likely the largest online event of its kind in Australia," says David Habben, chief media strategist for Akamai Technologies in Asia Pacific.
"To put that into perspective, the audience of over 300,000 was more than three times larger than the Australian live stream of the FIFA World Cup, and almost double the peak traffic."  
#melbournecup tweets
This week's Melbourne Cup was the fifth most talked about sporting event of the year, recording 7.7 million tweet impressions, according to Nielsen Twitter TV Rating.
Tweet volume peaked at 3.30pm, about 25 minutes after the race.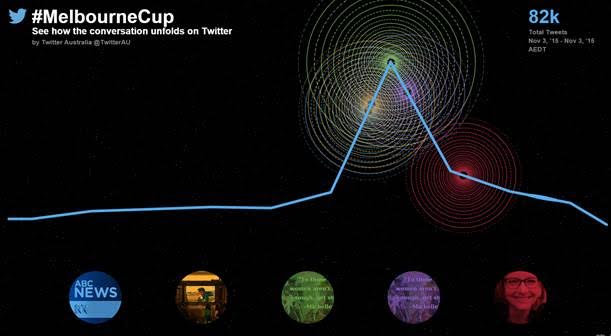 EMMA releases print/web audience data
EMMA (Enhanced Media Metrics Australia) has released audience data for Australia's newspapers and magazines.
Total audience report – print/web (monthly), Oct 2014 to Sept 2015
Newspapers
Sydney Morning Herald: 4,693,000,

Daily Telegraph: 3,830,000,

Herald Sun: 3,652,000,

The Age: 2,750,000,

The Australian: 2,685,000,

Courier-Mail: 2,648,000,

West Australian: 1,624,000,

Adelaide Advertiser: 1,419,000,

Financial Review: 1,363,000,

Sunday Times: 1,144,000,

Canberra Times: 668,000,

Sunshine Coast Daily: 306,000,

The Mercury: 263,000, and

Northern Territory News: 228,000.
Magazines
New Idea: 3,255,000,

Woman's Day: 3,180,000,

Better Homes and Gardens: 2,394,000,

Taste.com.au: 2,243,000,

Australian Women's Weekly: 2,213,000,

Australian Gourmet Traveller: 501,000, and

Marie Claire: 481,000.
OOH industry records tenth month of YOY growth
Out-of-home (OOH) industry revenue increased 19.4% year-on-year for the month of October to $69.9 million, according to the Outdoor Media Association (OMA).
Year-to-date revenue has increased by 17.1% to $532.8 million, up from $454.8 million for the same time last year. Digital Out-of-Home (DOOH) year-to-date makes up 25.3% of total revenue, up from 16.5% of total revenue for the same period last year.
Category figures for October 2015:
Roadside Billboards (over and under 25 square metres): $25.3 million

Roadside Other (street furniture, taxis, bus/tram externals, small format): $21.6million

Transport (including airports): $12.0 million

Retail, Lifestyle and Other: $11.0  million
MOVE reports fifth year of OOH audience growth
OOH audiences have grown for the fifth year in a row, according to the annual update from MOVE (Measurement of Outdoor Visibility and Exposure).
Audiences have grown by 3.4% this year across all mainland capital cities, to an average of 300,000 people in OOH environments each day.
12.2 million people daily make 51 million trips across the five markets.
Twitter 'favourite' feature becomes a 'like'
Twitter has changed the star 'favourite icon' to a heart-shaped 'like' – in-line with other social media platforms such as Instagram.
The company says the heart will be "easier and more rewarding" for users: "not everything can be your favourite, but you might like a lot of things".
Foxtel and Ten acquisitions
Foxtel plans to acquire up to 15% of Network Ten, while Ten plans to acquire a 24.99% stake in Foxtel's advertising agency MCN (Multi-Channel Network) and 10% of Presto (a joint venture between Foxtel and the Seven Network).
The ACCC has announced it will not oppose the proposed acquisitions.
Frankie founders launch new magazine, Lunch Lady
Frankie founders Louise Bannister and Lara Burke have announced their new independent publishing house, We Print Nice Things, is launching its first magazine, Lunch Lady.
The duo left Frankie about two years ago before publisher Morrison Media was sold to radio station owner Pacific Star Network Limited (PNW) last November.
Lunch Lady is aimed at 30-to-49-year-old "food focused parents" and will feature recipes, parenting stories, long-form journalism and profile pieces, photography features, art and cooking ideas for kids and parenting-themed opinion pieces.
The magazine is based on the blog by Australian photographer and mother of two Kate Berry, who will serve as editor.
The first edition features writers Yumi Stynes and Helen Razer, designer Beci Orpin, illustrator Ashley Goldberg and cookbook author Sarah Coates.
Lunch Lady Magazine from SCRUFFALO on Vimeo.
SBS to launch new Food Network channel
SBS is planning to launch Food Network, a new TV channel dedicated to food, available free-to-air from Tuesday 17 November.
Programmes to run on the network will include Curtis Stone's Beach Eats USA, Kitchen Inferno and Surfing the Menu; Rachael Ray's 30 Minute Meals and Giada at Home; and food-inspired travel and culinary adventure programs Reza: Spice Prince of Vietnam, Bizarre Foods with Andrew Zimmern and Diners, and Drive Ins & Dives.