Subway is learning the risk of celebrity endorsement the hard way
Jaci Burns writes that the controversy engulfing Subway and its long-time spokesperson Jared Fogle is just the latest evidence that celebrity brand ambassadors are too risky, and that's why more and more brands are turning to 'real' people as social media brand ambassadors.
–
Editor's note: I want to be careful to point out that no guilt is implied in this article (and isn't necessary to the author's argument, sadly), and Jared Fogle hasn't been charged with anything. 
–
On 8 July fast food giant Subway announced it had suspended its relationship with long-time brand ambassador, Jared Fogle, following a search of his home by the FBI.
Fogle is the former Indiana University student who in the late 1990s successfully shed around 110 kilograms (250 pounds) through walking and a diet of Subway sandwiches.
The FBI probe comes two months after a past executive of The Jared Foundation – the charity Fogle established to address childhood obesity – was arrested on child pornography charges.
Fogle has not been charged with any crime.
Brand-ambassador relationships don't come closer than Subway's association with Jared Fogle. Back in 2011, when Fogle was marking 15 years as Subway's commercial spokesman, the brand's then chief marketing officer Tony Pace was quoted in the New York Daily News as saying Fogle was "woven into the fabric of the brand" and "an essential part of the family".
Fogle has filmed more than 300 commercials for Subway over the past 17 years.
There is no doubting the power of celebrity to catapult brand awareness and drive sales. In the same Daily News story Tony Pace attributed "one-third to one-half of Subway's growth in the past 15 years" to Jared Fogle.
For context, according to US website Nation's Restaurant News, Subway's sales more than tripled during that period, skyrocketing to $11.5 billion in 2011, up from $3 billion in 1998.
The trouble is, when an ambassador becomes a liability – real, potential or perceived – the damage can be irreparable.
History is littered with celebrities whose marketing contracts were rescinded when their image became tarnished or even just called into question. Earlier this month Donald Trump was dumped by high profile sponsors and commercial partners including NBC, ESPN, NASCAR and Macy's in the wake of Trump's racist remarks about Mexican immigrants.
Once negative information about a brand ambassador becomes public, their relationship with the brand seldom recovers.
A real alternative to celebrity ambassadors
The degree of risk, coupled with the severity of the consequences, is prompting a growing number of brands to shift from a single celebrity ambassador to a larger number of social media brand ambassadors. These ambassadors are 'real' (as in regular) people who embody the brand, are genuine brand advocates, and who through social media have real influence over a certain audience.
Whether they have celebrity or social media influence, brand ambassadors are selected because they reflect a brand's personality, values, style and appeal.
Authenticity and involvement are what distinguishes SMBAs from their celebrity counterparts. A celebrity ambassador might be credible but there is often no expectation or even pretence that the personality uses or is passionate about the brand. In most cases, the celebrity is merely providing the brand with access to their face, their voice, their reach.
In contrast, SMBAs tend to already be fiercely loyal and highly involved. They will often be voluntarily performing the role of brand advocate long before any formal arrangement is entered into. Because of this, their endorsement is more akin to word-of-mouth than it is to commercial spokesperson.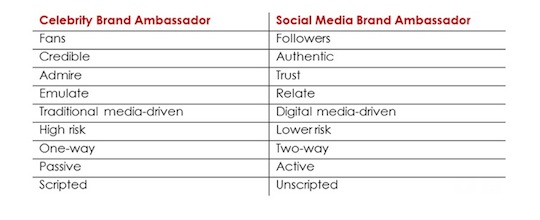 Occasionally a 'real' brand ambassador morphs into a celebrity. Jared Fogle was just an ordinary person who gained celebrity through being a genuine advocate for Subway.
As it happens, Subway had already begun to scale back its marketing reliance on Fogle.
Whatever the outcome of the FBI investigation, speculation is mounting as to whether the two will ever 'break bread' again.