Surf and turf: Coke to install pop-up beach in SCG stand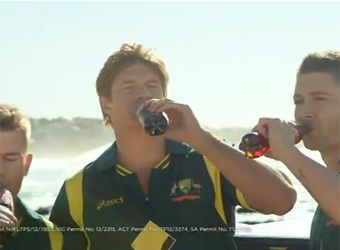 Coca-Cola will turn a stand in the Sydney Cricket Ground (SCG) into a pop-up beach for the summer cricket season. Coca-Cola 'Beach @ The Cricket' will be the world's first pop-up beach in a cricket ground and another foray into experiential marketing for the brand.
The beach will feature splash pools and free Coca-Cola products, embedding the brand in two Australian summer traditions.
Marketing manager at Coca-Cola South Pacific, Antoinette Tyrrell, says the aim is to get fans participating in cricket in a whole new way and spark interest and conversations.
"We've all grown up playing cricket on the beach. For Aussies, there's no need to choose between the beach and the cricket this summer, we've brought the beach and Australia's best cricketers to them," Tyrrell says.
"Through our partnership with Cricket Australia, Coca-Cola has created this one of a kind, world first experience for our consumers."
A fully-integrated marketing and advertising campaign will run through the heart of the summer cricket season from December to early February, supported by on-pack consumer promotion, TVCs, a Channel 9 media partnership, point-of-sale, social media and digital.
Members of the Australian cricket team, including captain Michael Clarke, star in the TVC.
Fans can win a spot in the modified stand by winning from specially marked bottles, entering a competition on Nine's Today show or by being upgraded to the section at the game for being best dressed.
Cricket Australia has taken an active role in the partnership, also hoping to boost conversations around the cricket this summer. "Together, we're offering the ultimate Australian summer experience – the sand between your toes, water at your feet, an ice cold Coke in your hand and Australia's favourite team in front of you," Mike McKenna, executive general manager, operations, at Cricket Australia says.
Experiential agency Elite Sports Properties worked with George Patterson Y&R, media buyers IKON, shopper agency Mix, Ogilvy, One Green Bean and Wunderman on the integrated campaign. Packaging was created by Passport.