Telstra clings to home phone rentals with new T-Hub product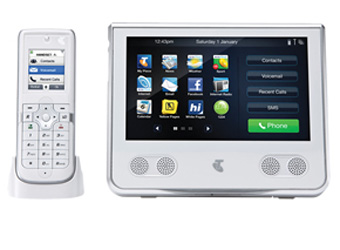 Telstra today unveiled the second generation of its hybrid home phone-tablet device, T-Hub, with an Android operating system and all-new design.
A play to protect the telco's home phone line revenue base, the T-Hub 2 looks and acts more like a tablet than its predecessor but will remain connected to the legacy home phone line PSTN network. Users will need to pay for phone line rental to use the device as a phone, although it will be compatible with the National Broadband Network's cabling to transition customers to high-speed broadband when their local area is fibre-enabled.
Executive director of Telstra Wireline Products, Brian Harcourt, says the device is the next step in Telstra's connected home strategy. "T-Hub 2 caters to what modern households need in a home phone, offering a smarter way to make calls, manage contacts and access handy internet services like live weather updates and social networking sites."
Harcourt insists that the home phone "remains central to how Australian families communicate" and that the "T-Hub 2 re-imagines a much-loved communication device".
The device offers features for handling contacts and calls including and internal phonebook, calendar, Yellow and White Pages apps and voicemails displayed as a list so owners can see who called and jump to the messages they want to hear most.
The 7-inch Wi-Fi enabled tablet sits upright in a charging cradle with stereo speakers and has a built-in kick stand so that it can be used throughout the home. Feedback from owners of the original T-Hub called for greater audio clarity, managing contacts, and access to applications for everyday activities.
It is available from today for $360 outright for customers with eligible services or can be purchased in conjunction with a on a 24-month contact for $15 a month.