Tennis player Maria Sharapova is the most marketable female athlete in the world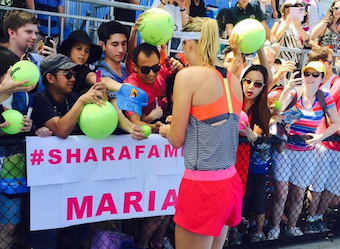 Women tennis players are the most admired celebrity female sports stars and Maria Sharapova ranks the highest, according to a study by sports marketing researcher Repucom.
The study measured celebrity DBI perceptions of 1.6 billion people in 15 countries to reveal the 15 most marketable female athletes in the world. The 15 represent eight different sports and four are tennis players: Serena Williams, Venus Williams, Maria Sharapova and retired tennis icon Steffi Graf.
On the global list of female celebrities, Sharapova is the highest-ranked athlete at number 25. In comparison with other female sports stars, tennis players dominate the list with the Williams sisters ranking 28 (Serena) and 37 (Venus).
"Tennis is undoubtedly the number one women's sport achieving high TV consumption and as the DBI data shows, female tennis players are highly regarded all over the world", says Repucom's managing director, Australia and New Zealand, Guy Port.
Sharapova's biggest fans are in Turkey, with an aspiration factor score of 76.60 and 71.55 in her home country of Russia. Sharapova has the highest factor in 'breakthrough', 'trend-setter' and 'endorsement' compared to other female tennis players.
Her sponsorship deals include Evian, Nike and Tag Heuer and she is brand ambassador for Porsche. Sharapova is also a businesswoman, launching 'Sugarpova' sweets with stores around the world.
"As tennis is played the whole year round, elite women players gain more visibility and thus sponsors get an annual presence with their selected ambassador," says Port.
Dominating Facebook with over 15 million fans and 1.42 million followers on Twitter, Sharapova is the most popular tennis player in the social media world ahead of men's stars, Roger Federer and Rafael Nadal.
Serena Williams is the most marketable female athlete in Australia, acquiring an awareness score of 94.65. However, Sam Stosur slams her in appeal factor 70.35 compared to 59.41.
Williams is the highest earning womens athlete of all-time with over $US 63.5 million in prize money. The American tennis star attracts some of the biggest sponsors in sport, including Nike, Wilson and Gatorade. She has over 2.7 million Facebook fans and 4.46 million Twitter followers.
"We now see the impact of a second generation of young women growing up with a much higher chance of developing an interest in sport, and female sporting celebrities providing role models which are closing the gap with non-sport celebrities and their male counterparts," says Port.