Why the Australian Open Twitter account is one of the world's best in sport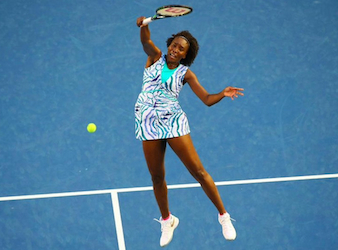 Tennis Australia is leading the way in innovative Twitter content and customer service with @AustralianOpen, one of the world's best-run sport accounts, says Twitter Australia's sport partnership manager, Jonno Simpson.
A massive 33,000 new followers boosted the @AustralianOpen Twitter page on day one of the tournament this year, the account's biggest day ever. So far about 64,000 extra Twitter users have started following the account since then, taking the total follower count to more than 700,000.
The well-resourced team operates the @AustralianOpen Twitter account 24 hours a day, seven days a week during the two-week tournament, posting images, videos and updates on matches and news and engaging with fans.
"They understand the value of making sure they've got people at the right places getting the right content," Simpson says.
"When you turn up on day one, there's 20 courts of action. That's a lot of content to be able to decipher what works and what doesn't across your web channels."
In the competitive yet supportive environment of world tennis, the Australian Open is always aiming to stay at the cutting edge of innovation ahead of the previous year's US and French Opens and Wimbledon Championships.
Simpson talks us through some of the most impressive aspects of this year's Australian Open Twitter activity.
Instant video replays
After purchasing SnappyTV mid-last year, Twitter is offering improved video functionalities and the Australian Open is taking advantage.
"SnappyTV allows you to get a live event stream and pull a clip out or an instant replay onto Twitter within 30 seconds. They've been using that this year to put out highlights, on-court interviews after the game, showing the players coming out of the tunnels… just really instant video straight onto our platform," Simpson explains.
"It allows it to be one clip to play, so it sits within the person's timeline, they see the video button, they press play and it plays automatically within their tweet."
This is the first year that the Australian Open team is properly putting this technology to use, after experimenting with it last year.
"The exciting development here is that Channel Seven is also doing it as well for the first time."
The Social Shack
The Australian Open pioneered the Social Shack last year but has ramped it up even further for 2015.
"It's a kind of social environment at the actual tennis ground. There are visualisations of tweets, you can check in on Twitter, and there's a little booth where players go and do Q and As on Twitter," Simpson says.
"Every single day there've been two or three takeovers, so a player goes down to the Social Shack and takes over the Australian Open Twitter account for half an hour and fans can just ask them anything."
Tennis players, Channel Seven talent and celebrities visiting the tennis have been known to get involved in the Twitter account takeovers.
"What the Australian Open do particularly well is they just have the best access to players. It's a really good way of giving access to people around the world to the tennis players that sometimes they might not be able to have access to."
Twitter vending machine
Also down at the Social Shack fans can interact with an innovative Twitter 'Tweet for a Treat' vending machine, which gives out prizes in return for sending a tweet.
A touch screen on the machine gives out a unique code for the fan to incorporate into a tweet, which the machine recognises.
"You tweet it out saying, 'I'd love to get a prize from the Australian Open vending machine', hashtag AO17 for example, and that then recognises that tweet and drops the prize into the bottom of the vending machine and you pull it out. So the only way to get it is by sending a tweet," Simpson explains.
Unsurprisingly, the Twitter vending machine has been a huge hit with fans so far, attracting long queues.
Exclusive access
@AustralianOpen is following Simpson's recommended best practice for a sporting account regarding its behind-the-scenes coverage.
"One of the reasons I think their account is so good is they pretty much have access to all areas," he explains.
"Fans want you to go where no one else can go, and that's what they expect. To see videos within the tunnel as Rafa Nadal's about to walk out onto court, and they're 30cm away from him, that's unprecedented access to these level of athletes."
Presenting those glimpses of behind-the-scenes action is partly how the Australian Open account has experienced had such massive follower growth this year.
"And obviously we're expecting it to get bigger because the more interest now comes around the finals. So we're expecting a lot of traffic and a lot of content and a lot of tweets then."