Tesco loyalty program offers TV to members, targeting to advertisers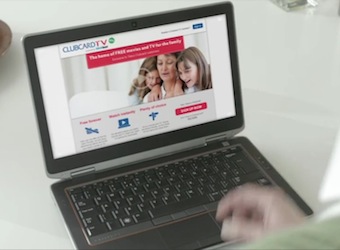 UK grocery giant Tesco are stepping it up a notch in the competitive space of customer loyalty programs, offering its Clubcard members free movie and television shows on the newly launched 'Clubcard TV.'
The new service is a bid for Tesco to cash in on its rich database of consumer spending habits. As targeted advertising is increasing in importance, Tesco hopes the service  will prove to be extremely attractive to advertisers.
The Clubcard TV loyalty program will be available to all 16 million Clubcard members by entering a 16 digit code on the back of their cards. The free content can be accessed via computes, with plans to extend the service to a range of devices including games consoles, tablets, Smart TVs, Blu-ray players and set-top boxes.
Targeted advertisements will be displayed at the beginning and during each program based on previous purchases and information stored on each customer's Clubcard. Kellogg's, J&J, Colgate and Danone are some of the advertisers that have signed up for the launch.
Behind Clubcard TV is the same team that developed Blinkbox, in which Tesco bought a majority stake in April 2011. In the last few years Tesco has acquired a number of digital services including ebook seller Mobcast, and online streaming services, Blinkbox and WE7.
The programming itself will be geared towards children and families, but content will span across comedy, drama, kids TV, romance, thrillers and documentaries. Tesco has promised customers it has no plans to ever charge for the service.