Tesco to let shoppers browse virtual 3D stores via smart TVs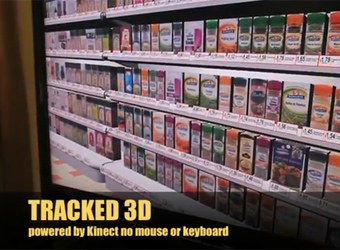 UK retailer Tesco is set to launch a three-dimensional virtual store that shoppers can walk through and buy from in the comfort of their living room using a smart TV.
According to Brand Republic, the supermarket giant is moving closer to launching a 'fly-through' of a 3D-rendered Tesco store that will integrate the online experience with the classic in-store shopping trip.
Shoppers would move about the virtual store using motion sensor controls to turn and progress down aisles, and could purchase products by reaching out and touching them on the virtual shelves. The experience is expected to bring the best of online and offline shopping together.
Tesco.com's head of research and development Nick Lansley says progress on the virtual store to date had been held back by slow broadband speeds and the availability of motion tracking and smart TV technology. With rapid uptake of HTML5 and new technology, including 3D TVs and the growing availability of motion-sensor technology, on devices such as the Xbox, via Kinect, and Samsung Smart TVs, the goal of a virtual store is closer to becoming a reality.
Tesco recently trialled an augmented-reality store in Gatwick Airport allowing travellers to refill the fridge on their way home from a holiday as part of its strategy to reach customers 'wherever they are' through digital.
It's one of several major retailers, including Amazon and eBay, to have publicly available APIs – an open-architecture approach that enables technology communities to create their own applications. Software company, Keytree, took advantage of Tesco's open APIs to beat the retailer to punch, building a virtual store that can be navigated with an Xbox Kinect.
Keytree's 'Store Trek' system was not created for commercial use by the retailer however, according to Brand Republic.