The Audi snow drive experience: playing catch-up in the luxury car race
It's the luxury car brand creeping on its competitors, eyeing to knock BMW off its position as number two in Australia by building local capacity and engaging new fans. Audi might be number one in Europe, but in Australia it is still a relatively young brand, at least compared to its fellow Germans, BMW and market leader Mercedes-Benz.
As the fastest-growing premium brand of the last 10 years, Audi Australia is focused on giving its customers "more than just buying a car", according to managing director Andrew Doyle, by facilitating adventurous experiences and creating community.
This week Audi Australia launched its first local on-snow drive day with the new soon-to-be-released Q7. The brand has signed on as a major sponsor of ski resort Mt Hotham this year, covering the resort in prominent branding messages and even convincing it to rename its Village chairlift to the 'Audi Quattro' chair.
In the Audi Quattro snow driving experience, for $600 a head, Audi customers and fans fly from Melbourne or Sydney in private jets to Mt Hotham, where they test out the new Q7 both on-road and off-road and even on-snow. The day balances the educational with the breathtaking, with race driver and chief driving instructor Steve Pizzati and his team of experts guiding participants through an on-snow emergency brake and swerve and rebellious tail-spin – "the kind of thing you want to do in the carpark when you come to the snow but are never allowed".
Participants experience the Q7's adaptive cruise control driving in a fleet along the epic turns of the Great Alpine Road, then engage the car's offroad drive setting increasing its ground clearance to tour the Dargo Trail, normally closed in winter.
A three-course meal overlooking the rolling snowfields followed by a choice of ski or snowboard lesson or day-spa treatment tops off the day before heading home by private jet.
It's opportunities like these that get Audi fans talking – not just about the cars but about the adrenaline-filled experiences, smoothly and professionally run and offering ample drive time in the cars on varied terrain.
Marketing spoke to Anna Burgdorf, general manager of corporate communications, about the strategy behind Audi Australia's marketing activities and where the brand sees itself heading locally.
Marketing: How do drive experiences such as this one fit into Audi Australia's overall marketing strategy?
Anna Burgdorf: We as a company spend quite a lot of our time and energy on creating experiences for customers. Part of what we do as a premium brand is around innovation in that customer space and how we work with and talk to our customers. Our driving experience in general is an education tool; helping our owners get the most out of their vehicle, helping to increase and improve their skills, and effectively it's a great way to have a lot of fun and really develop people's skills on the road and their understanding of the technology that goes into our vehicles.
The snow experience is something that's done in Europe, in Austria once a year there's an Audi snow driving experience which is amazing; if you ever get a chance to do it, jump at it. And it's something we've always wanted to do here. We've got a really meaty driving experience program on the race track and also lifestyle drives that we do; road trips, but what we didn't have in our portfolio was a snow driving experience. Obviously that's a really different beast when you're handling and driving a car. So we wanted to do that with the Q7 in this particular instance because it was also a little bit unexpected, and we like to add that element of, why would you put an SUV on a snow course? Our response to that is: because we can, because the car is amazing, and the technology it offers with our Quattro all-wheel-drive system is so good that it handles all terrain equally as well.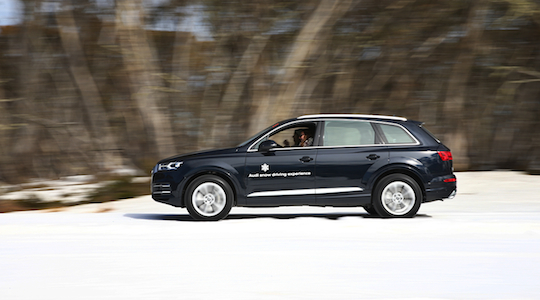 M: When it comes to experiences like this, who's the ideal participant? Is it people who've recently bought an Audi? People who are in the market and are weighing up options?
AB: It's anyone; it's open to anyone. You can as a punter just log into our driving experience website and book yourself into a course. The way we do it is that it's a tiered course; it starts with an advanced driving course, then you move up into performance and then into race experience, at the top level, effectively we train you on a race bred car. Then you would be able to go and race an R8 LMS. It's about anyone who wants to learn to be a better driver or someone who wants to actually work their way up to racing cars is the ideal participant. We certainly do offer it to customers, invitation-only, but then the public can book into our driving days as well.
M: Tell me about the partnership with Mt Hotham. You've signed on as a major sponsor starting this year. How many years is that contract for?
AB: Initially we are looking at the first year. We need to see how successful it will be. We have been talking to Hotham certainly for well over a year. We just couldn't quite make it happen last year, so we decided to implement this year. We are aware that people that go to Mt Hotham are a great audience for us, and we just like that real link to the kind of technology that we offer in our vehicles, and snowy and icy conditions is the one aspect of our driving experience that we don't have in our portfolio in Australia. And it's so successful in Europe, we wanted to replicate it here and give Australians that same opportunity. Hotham is a good partner, they're really open to partnerships. They're really open to doing crazy things like making an ice rink for us, and that's the kind of partner we like to work with, one that says, 'yeah, okay, let's do it'.
M: Audi is number one in the luxury car market in Western Europe but number three in Australia behind Mercedes-Benz and BMW. Have you got any figures or trends you can give me to demonstrate Audi's growth locally? Everyone is talking about how Audi is catching up to BMW. How strong is Audi's growth and how long will it be until it overtakes BMW to nab the number two position?
AB: In 2004, Audi Australia Pty Ltd became a wholly-owned subsidiary of Audi AG, based in Ingolstadt. So in our recent history, that's a really solid marker for us, when the company bought us 100% as a national sales company. Since that time, the company has continued to invest in the Australian market to sustainably increase sales growth year-on-year; 11 years of consecutive growth.
[The brand had growth] also before that, but for us as a national sales company of Audi AG, we most often talk about that 2004 point. Before then we were a joint venture, and then prior to that, solely imported by a Singapore-based company.
This growth demonstrates the company's commitment to the Australian marketplace and its customers. Audi and it's dealers have continued to invest in building the brand, and subsequently, building sales in this country.
In terms of our growth path, we have worked to consistently close the volume gap to our key German competitors from around 25% in 2004 to around 80% in 2014. This steady and sustainable growth has taken place over the past 10 years.
M: Can you talk me through any challenges the brand and the image have faced over those past couple of decades and how that's changed?
AB: Absolutely, the thing we find most critical to the growth of the brand is we became wholly-owned by Audi AG in 2004. Our competitors – I think Benz was something like 1956, and BMW was the 1970s. We've got a lot of time to make up. Those two competitive brands have been building their brands in Australia for a much, much longer time. So as a direct competitor, we're really playing catch-up on between 30 and 50 years. We've got the product, we absolutely know that, and our sales growth shows that, but it's all about creating greater awareness of Audi as a true premium brand and a real innovator in terms of technology. As a customer of a premium brand, you've got great choice. BMW, Mercedes, Audi, they're all incredible brands and they all have fantastic features, strong technology, but we don't have that history and awareness in Australia that our competitors do. We absolutely will get there, it's just going to take us a little longer.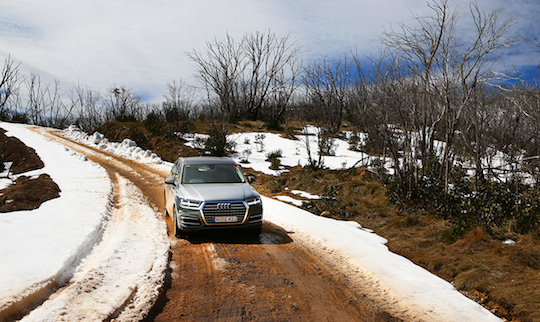 M: What about in the outdoor space? A few people were mentioning they don't necessarily think of Audi as being capable of going off-road.
AB: That's a funny thing when you consider our heritage. We've got probably the strongest heritage as a successful rally brand since the 1980s. The Audi Quattro, which was the name of one of our early rally cars, won everything. The heritage is unquestionable from that perspective. We've had this Quattro technology in rally cars and race cars for 30-odd years. It's just that it's not known in Australia, and as I said before, it's literally just that we've got that deficit to build the brand. And that's what we're doing at the moment with things like Mt Hotham. In July we also helped to bring the international champions' cup football to Melbourne, we have Audi Hamilton Island Race Week, an event we've built over a 10-year period, and all of that is to drive the brand and to create greater awareness of who we are as a brand and what we're good at. We're good at technology, we're good at innovation, and we have the vehicles to back up what we're saying in our marketing and communications. But what things like our driving experience allow us to do is demonstrate it. We can talk to you and advertise all we want but it's the physical demonstration of what the capability of the car is that's going to be the real game-changer for a premium customer.
The Audi Quattro snow drive experience at Mt Hotham runs until Tuesday.