The Bentley Boys ride again
Almost a century on from Walter Owen Bentley's dominance of European motorsports, Ian Lloyd Neubauer heads to the sands of Abu Dhabi to find the reincarnation of the Bentley Boys, along with the reincarnation of the brand's vision.
When legendary WWI aero-engineer Walter Owen Bentley started making grand touring cars in the 1920s, he figured the best way to market them was to enter them in races. The decision set in motion one of the most successful chapters in motorsports history, with Bentley winning France's iconic 24 Hours of Le Mans five times between 1924 and 1930.
His cars were piloted by the Bentley Boys – a group of wealthy, bombastic aristocrats and playboys who gravitated towards the brand because it was the fastest, the loudest and the best. Men like motoring journalist Sydney Charles Houghton 'Sammy' Davis, submarine commander Glen Kidston and diamond dealer Woolf Barnato, who won Le Mans thrice – a record that remains unbroken today. The Bentley Boys were the toast of London society – an unbeatable team whose devil-may-care attitude and unrivalled success on the racetrack personified the air and optimism of postwar England and became part of the brand's pedigree and prestige. When you bought a Bentley, you bought a piece of the Bentley Boys.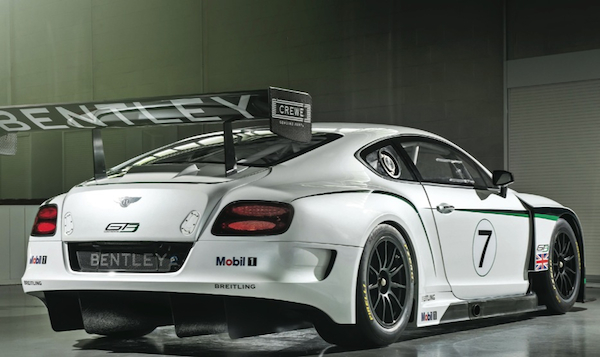 In 1931, Bentley Motors fell victim to the Great Depression and went into receivership. Its new owner Rolls-Royce axed the racing program and sent Bentley in a new direction, focusing on its luxury, comfort and handcrafted wood and leather interior – a finish found nowhere else in the automotive world.
Coupled with the astronomical cost of buying one, Bentley's demographic morphed from gentlemen racers to silver-haired gentlemen and the brand became something of an antique. But in 1998, Bentley's new owner Volkswagen turned back time and repositioned the brand as the high-performance muscle car it used to be. And for that it went back to
Le Mans – the oldest, most famous and influential motorsports endurance race on the planet.
But there's something innately unsatisfying about reliving former glories – even when one does so successfully as Bentley did when it trumped BMW, Lotus, Ducati and countless other racing thoroughbreds at Le Mans in 2003.
"We have won Le Mans six times now. We have nothing to prove there," says Bentley marketing director Robin Peel. "Anyway, the field's really crowded. Both Porsche and Audi have a strong presence there," he adds, in reference to two other Volkswagen-owned marques the Germans probably don't want to again see upended by an old-world British saloon.
Mulsannes and Mirages
Fast-forward 10 years to a blisteringly hot morning. It's 13 December 2013 and Guy Smith, the pint-sized British driver who led the team that last stole victory for Bentley at Le Mans, is back behind the wheel, though this time in a very different beast to the Batmobile-like Bentley Speed 8 he piloted in 2003. In its place is a pearl-white Bentley Continental GT3 with black and green racing stripes, a formidable carbon fibre wing and a 4.0-litre V8 twin-turbocharged engine that emits a growl so deep and guttural it makes the hairs on your neck stand on end.
"When the engine backfires and the exhaust pops, it really gets the blood pumping," Smith says of the souped-up, dressed-down version of the two- door grand touring coupé. The car was introduced in 2003 as the first Bentley to employ mass-market manufacturing in a risky but successful move by Volkswagen to create a more 'affordable' grand tourer (the starting price for a Continental GT in Australia, for example, is $375,000, whereas a flagship Mulsanne will set you back $662,000).
Marking an even more radical departure from the past is the location Bentley chose for its return to production car racing: Yas Marina Circuit on the outskirts of Abu Dhabi, the capital of the United Arab Emirates, 150 kilometres south of Dubai. Boasting the longest straight of any Formula One circuit in the world, a pit lane set directly underneath the main grandstand and 21 twists and turns that career around sand dunes, mega-yachts moored in the Yas Marina and the 500-room Yas Viceroy Hotel, Yas Marina Circuit is arguably the most phenomenal racetrack on earth. Mercedes Formula One team driver Nico Rosberg told the UK's Autosport magazine, "Every corner is unique", while two-time world Formula One champion Fernando Alonso said the track is so varied it leaves drivers "no time to breathe".
The track received similar acclaim from drivers who amassed there in December for the Gulf 12 Hours – a two-part Le Mans-style endurance race restricted to Gran Turismo class production like the Lamborghini Gallardo, Aston Martin Vantage and Ferrari 458 Italia. The cars are heavily modified for optimum speed with better aerodynamics, larger brakes and wider tyres, but must adhere to strict specifications such as a minimum weight of 1.3 tonnes, two front seats and two-wheel drive steering systems.
"The fact that these are road cars modified for racing is what makes Gran Turismo racing so interesting," says Mohammed Jawa, a McLaren driver from Saudi Arabia. "So there is an appeal for people who know nothing about racing, but who recognise the cars, and an even bigger appeal for spectators who actually own one of the cars."
Yet the question remains: why did Bentley, a brand as European as Louis Vuitton and Champagne, choose a little-known race on the edge of the Arabian Desert for the Continental GT3's eagerly anticipated test race?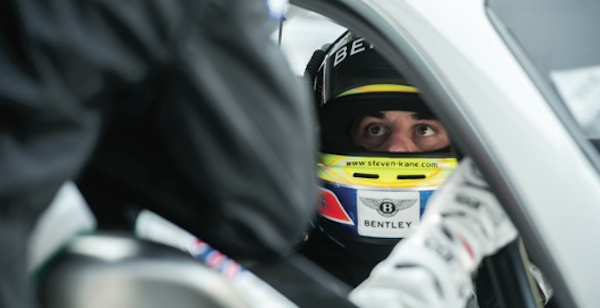 Bentley Boys 2.0
"We chose this event," says Peel, "because it has global appeal and because it matches our long-held tradition of 'gentlemen's racing'."
Yet, if one reads between the lines, the choice of Abu Dhabi can be understood to be the launch of a poignantly targeted marketing plan. Bentley's largest market is the US, followed by Europe, though its fastest growing market is China and then the Middle East. In the latter two regions, a significant percentage of Bentley's customer base are under 30 – young, flamboyant, cashed-up motorheads, who could easily afford a Ferrari or Bugatti but choose a Bentley instead because of its rich and colourful history, incredible performance (the Continental GT3 can go from 0 to 100 kilometres per hour in under four seconds and has a top speed of 329 kilometres per hour) and the very simple fact that it's different. Collectively, these buyers represent an ilk of owners not seen since the Roaring Twenties and who raise the mouth-watering prospect of the Bentley Boys 2.0 – a supposition the carmaker readily acknowledges.
"Our plan is to build 12 Continental GT3s for privateers to race, and we'll support them every step of the way," Peel says. "There's a lot of interest among our younger customers to race our cars, who'll contemporise the brand and once again show the world that racing is in Bentley's DNA.
"But we are not here to win headlines," he stresses. "We're here to win a race."
On the road with Bentley
Every year, Bentley Motors' Events division runs a number of special events. From the white-knuckle exhilaration of the Power on Ice experience in Finland, to a private tour of the Bollinger chateau in France, they offer participants the chance to thrash the hell out of a Bentley in an exotic part of the world.
Bentley Events' newest offering is a three-day Gulf 12-Hour Experience in Abu Dhabi. The motorsport endurance race is priced at $6000, not including airfare. This includes access to the Yas Marina Circuit during pre-race qualifying trials, as well as, on race day, trackside hospitality and catering at a luxury suite overlooking the main grandstand, an opportunity to see the team close-up in action in the pit lane, five-star accommodation, dinners at some of Abu Dhabi's best restaurants and a chauffeur-driven Bentley at the guest's disposal.
"About a month ago, I got phone call from Bentley asking me if I was interested in going to Abu Dhabi to see the race. I jumped at the chance," says Chris Bell, a Bentley owner from the UK. "To be here on race track, to talk to the drivers and see the GT3 at its first race in such an unbelievable setting like Abu Dhabi is an amazing privilege. "This weekend has cost me a lot of money," he adds. "But cars and racing are all about emotion, and there's no question this has been a very emotional experience for me."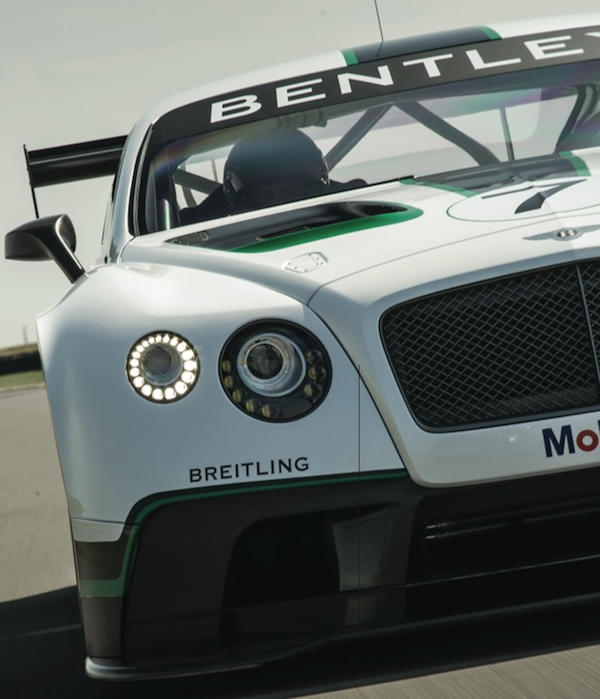 Postscript
Bentley didn't win the Gulf 12 Hours. That honour went to the defending champion, an Emirati-driven Mercedes AMG SLS. Second and third place went to Ferrari 458s, while the Bentley Continental GT3 finished fourth – a resounding result for an all-new car with zero racing history. And it left the team behind it flushed with confidence as they gear up for their return to Abu Dhabi in December this year.
Yet the biggest nod for Bentley's jaunt in the Gulf took place not at Yas Marina Circuit, but in the driveway of the Abu Dhabi St Regis Resort, where Peel dropped me off after the race in a Bentley Flying Spur. As I exited the vehicle, an Emirati gentleman in a long white flowing robe standing askew a sexy mint-orange Lamborghini Aventador locked his eyes on mine and mouthed: "Bentley – respect."
All images courtesy of Bentley Motors.