The best of Aussie Christmas marketing in 2014
The festive season is a favourite time for brands to come out with Christmassy campaigns – every year during December for as long as we can remember, our televisions have blared out jingle bells and gift ideas. This year Aussie brands have made some great examples of Christmas TVCs, but as digital gains importance in marketing, we're also seeing more and more long-form online video content, social campaigns, and lots of hashtags. Here is just some of the Christmas marketing from Aussie brands in 2014.
Aussie summer Christmas versus iconic White Christmas
Aldi
The local branch of German supermarket chain Aldi is showing its Aussie pride in a quirky new video campaign celebrating the unique traditions of an Aussie Christmas.
The main character returns to his small snow-covered European village after a trip to Australia and tries to convince skeptical villagers to try his strange ways of celebrating a summer Christmas.
An Aldi spokesperson says:
"Having grown up in Australia, my memories are of hot Christmas days, barbecued prawns and backyard cricket. We are all excited that ALDI's premium Specially Selected range has been brought to life with a campaign the celebrates the uniqueness of an Australian Christmas."
Kikki.K
Conversely, coming from a European background but with Aussie beginnings, stationery brand Kikki.K is celebrating its Swedish origins with a TVC reminiscent of founder and creative director Kristina Karlsson's childhood Christmases.
"For me, a Swedish Christmas is all about the snow, the candlelight, the decorations, the food, family and friends and of course the beautiful memories all of these combine to create," Karlsson says.
The brand has released both 30- and 60-second versions of the TVC. Here's the long version:
A local take on traditions
City of Sydney
In a stylish take on the traditional public Christmas decorations, City of Sydney enlisted design agency Holt to create these colourful triangular tree flags.
Creative director Christopher Holt explains:
"The notion of wind was the basis of this idea. From here, the visual brand we developed for Christmas in Sydney this year was inspired by the famous woodcut Travellers Caught in a Sudden breeze at Ejiri by 19th Century Japanese print-maker and artist Hokusai, and Jeff Wall's contemporary photographic interpretation of this work, A Sudden Gust of Wind. In this case, the wind seems to physically blow the spirit of Christmas off the tree and out across the city".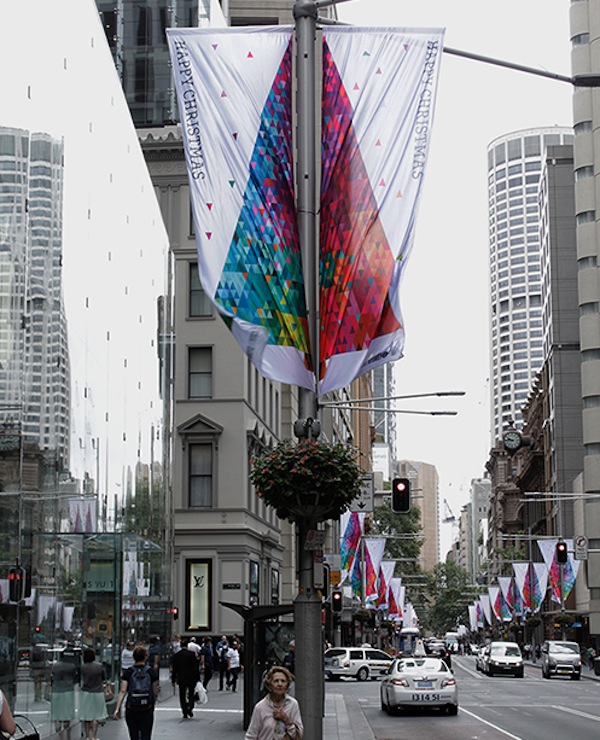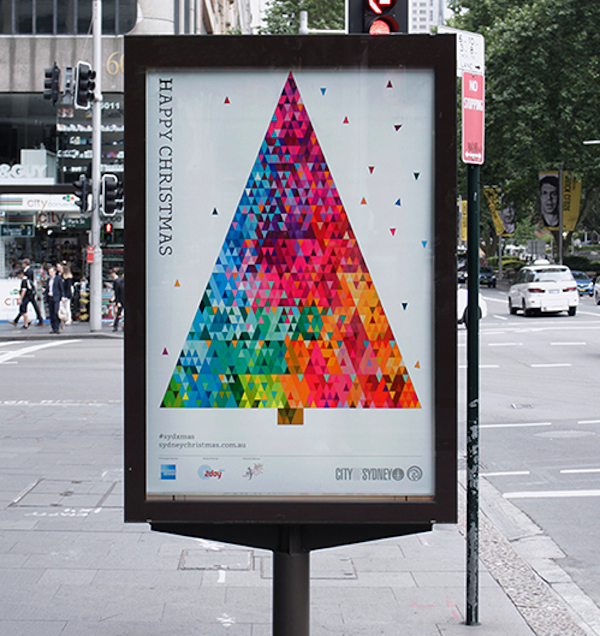 Sydney Opera House
Earlier this month, Santa paid a visit to the Sydney Opera House, as proven in this video encouraging people to visit the venue for its Christmas carols and entertainment events, and to use the hashtag #SantaAtOurHouse.
In a press release, Sydney Opera House quoted Mr Claus as describing the venue as "among the more challenging houses he visits".
"Mr Utzon was a man of many great talents but in designing one of the masterpieces of modern architecture, he forgot one important thing – the chimney!"
Content feast
IGA
IGA has gone for online engagement by releasing a series of branded content recipe videos showing how to make some innovative twists on traditional festive fare:
Baked ham glazed with fresh apricots, brown sugar and orange,
roast turkey with citrus, sage, and apricot stuffing,
honey glazed berry pavlova with lemon curd cream,
asparagus and quinoa salad with toasted maple seeds and strawberries,
antipasto salad with torn rosemary croutons, and
roast turkey with citrus, sage and apricot stuffing.
Here's the first one:
Stockland
Property developer Stockland has taken a similar direction with its Christmas content, publishing branded recipes starring 'Fast Ed' (Ed Halmagyi), such as this one:
The serious side of the silly season
Australian Cancer Research Foundation (ACRF)
Short and sweet, ACRF has released three TVCs (as well as radio, digital and social executions) with a lighthearted approach to its message – urging people to donate to the fight against cancer.
The TVCs feature a young boy, a mum and a grandmother. Here's our favourite:
Adrenalin Media and Unicef Australia
Adrenalin Media is celebrating its 10th birthday by setting up a dance floor for its staff to bust their moves on every day for a week. Between 3pm and 4pm every day, visitors to www.dancingforunicef.com can make the staff get up and dance. An air-horn sounds in the office, giving staff 10 seconds to reach the dance floor. For every song they dance to, the agency will donate $50 to Unicef (and it's all captured on video).
All money raised will be donated to UNICEF Australia to provide humanitarian assistance to children and mothers in developing countries.
Here's the staff busting their moves to 'Sexy Back':
TAC
Serious causes around Christmas don't stop with charity donations. The TAC released a novel 'be present' campaign urging people to stay safe over the holiday season.
Partnering with Graffiti Group, TAC installed a giant inflatable Christmas present at metro and regional stations around Victoria. Inside, people could wrap themselves as presents in a photo booth and make gift cards following the message, 'The best gift you can give is being there'.
People can also make Christmas video ecards at bepresent.net.au.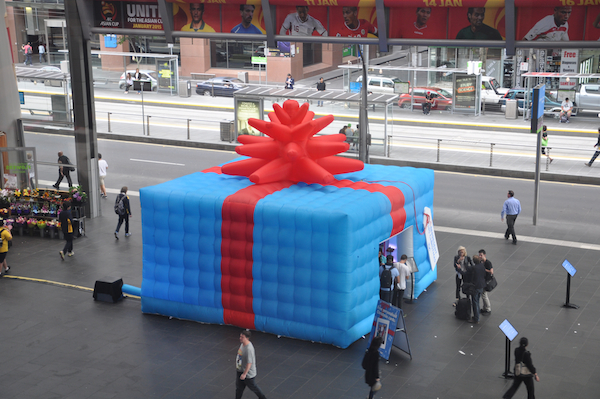 General Pants Co.
Generals Pants Co. renamed itself to General Peace Co. for Christmas, and is donating 100%of the proceeds from its limited edition t-shirts to Save the Children Australia and Oasis.
The brand has got celebrities on board with #GIVEPEACE, including Anthony Keidis, Daniel Johns, Angus & Julia Stone, Rachel Zoe, Corbin Harris, Alli and Cody Simpson, Jarrad and Clementine McVeigh,  Samantha Harris and Nikki Phillips.

Check out Tania Crosbie's blog criticising the campaign, The missing piece of the General Peace campaign.
And finally, from our friends in the US, 'Even Santa Poops'
PooPourri.com
The folks behind innovative hygiene solution, PooPourri have put together this amusing video featuring good old Mr Klaus in a less-than-pleasant situation. This isn't a local campaign, but it's funny enough that we couldn't resist including it on the list. Warning: There's a fair bit of toilet humour. Ok, a lot. Merry Christmas!