The endless possibilities of 3D billboards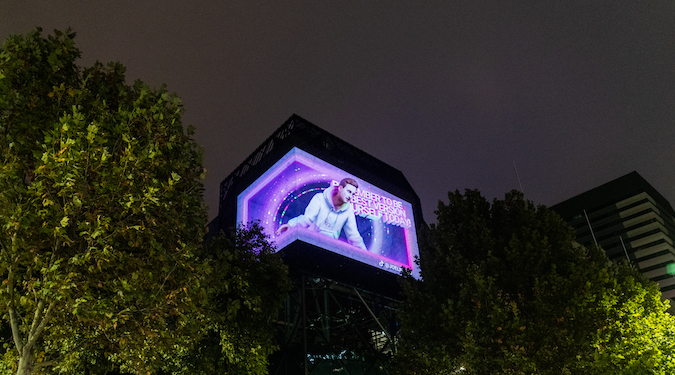 On 21 February, 2022, Australian telco company Circles.Life unveiled Australia's first 3D billboard. Melbourne's Lonsdale and Swanston Street has come to life with influencer and customer avatars coming to life.
The campaign is using the larger than life platform to amplify personal messages around the clock for the final week of February. Circles.Life is springing the metaverse atop Melbourne's Emporium shopping centre. 
Using the new technology, the billboard includes well known and lesser known faces to distribute passionate messages to Melbourne. Working with INVNT and Mediahub, the campaign is said to be part of the Metaverse.
What is a 3D billboard?
3D billboards are a new out of home (OOH) platform that creates a memorable visual experience. It combines billboard advertising and 3D technology. The result of these billboards is a creative and immersive experience, more engaging than the conventional advertising we are used to.
Hyper-realistic 3D OOH billboards have been stopping pedestrians in their tracks. In July of 2021, a video of a 3D cat appeared in Tokyo's busy Shinjuku district. The billboard went viral, as the cute cat slept, meowed and played inside the billboard. 
Which brands have used the technology so far?
Around the world, brands are utilising the new technology. In the centre of London, passersby in Piccadilly Circus stopped to watch Netflix's 20 metre tall activation. The campaign featured one of Tiger King's Carole Baskin's tigers for the movements on screen. 
After announcing a collaboration, luxury fashion house Balenciaga and gaming company Fortnite displayed a spectacular 3D billboard experience in London, New York, Tokyo and Seoul. 
The attention-grabbing campaign featured Fortnite favourite Doggo dressed in Balenciaga looming over the citizens below. 
The future of 3D billboards
Although advertising goes through trends, 3D billboards have more longevity. The unique way to create with a third-dimension provides advertisers with endless opportunities. It's an exciting new world that doesn't just provide static ads, but a visual experience for the public. The ads get a higher reach as people record and share on social media their own visual experience. 
3D digital billboards might be a new platform, but provide exciting and endless possibilities.