They're back: Rhonda and Ketut return to Aussie screens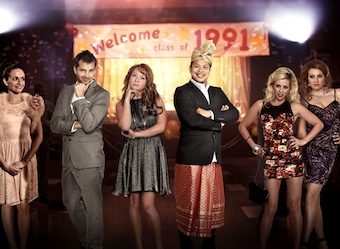 Rhonda and Ketut made their return to Australian television last night as the next instalment of AAMI's 'Safe Driver Rewards' campaign hit screens nationwide.
The new TVC for the Suncorp-owned insurance firm was developed by Ogilvy Melbourne. It is set at Rhonda's high-school reunion where Rhonda is swept off her feet by high-school jock, Trent Toogood, leaving a lonely looking Ketut who appears to show up late for the reunion, wondering if he has lost Rhonda forever.
"Since launching in October 2011, the AAMI 'Rhonda' series of ads have captured the attention of the Australian public, captivated by the story of Rhonda, her driving escapades and her romance with the affable Ketut," explained Ogilvy's general manager Michael McEwan.
"Through the incredible reaction the campaign has had on social media, we knew fans were keen to see where the relationship would head, so we've brought the two back together along with a new romantic interest. The central theme still remains that good drivers deserve attention, but leaves viewers questioning who Rhonda
will choose. Who knows where it might end?" he says.
AAMI's Richard Riboni says social media had played a major part in the popularity of the widely-awarded campaign in the past and is again expected to play a strong role in spreading the campaign's message following the launch of the new TVC.
"Australians have fallen in love with Rhonda and Ketut, and now we can't wait to see their reaction that Trent has arrived and has perhaps 'stolen' Rhonda's heart," Riboni continued.
The AAMI Safe Driver Rewards TVC launched on national television last night and will also comprises online, outdoor and radio advertisements, plus experiential activation and promotions.
http://youtu.be/VnJYxgTvNPI