Top10 April Fool's Day brand pranks
It's hard to tell these days whether April Fool's Day pranks are approached from the angle of brand building or just as a bit of fun between colleagues. Regardless, this year's hallowed day still delivered a host of pranks, despite falling on a Sunday. Marketing has looked around for the best pranks of the year and presents to you our top 10, in no particular order.
1. Telstra, Everything 80s is cool again
Telstra brought back the gold phone for April Fool's Day this year, complete with coin operated, old-school, push-button dialling and easy to read non-high-definition display. Great for the home or office!

2. Google, Roo View
Google announced plans to supplement Street View, via Street Roo, by deploying a 'roo force' with cameras strapped to their heads.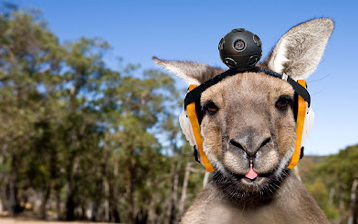 "Over the next four weeks, more than a thousand Big Red kangaroos will be equipped with a 360-degree head camera that will automatically capture images when the marsupial is on the move during daylight hours.
"To ensure a seamless experience – and to avoid motion sickness – we have also developed software that will smooth over the bouncing effect experienced with the raw data.
"Images will be wired to Google in real-time. A GPS tracker embedded into the jacket will match the location of the kangaroo to ensure the image is accurately uploaded onto the new Street View layer."
3. YouTube, DVD collection
Another one from Google, this time for YouTube, which you can now order on DVD. YouTube will send you every video ever uploaded ever; as soon as you sign up they will dispatch a fleet of 175 YouTube trucks to your home. Since approximately an hour of video is uploaded to YouTube every second, you'll receive an extra truckload every week.
4. Kraft, Cherry flavoured Vegemite
The consumer goods company posted this picture on their Facebook page: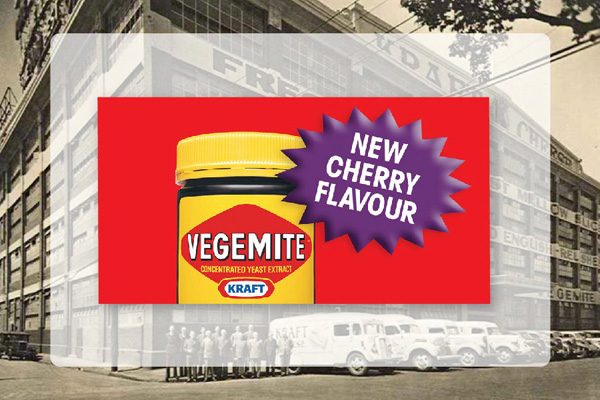 5. MINI, Build your own Countryman
"MINI is making it easier than ever for Australians to own their own MINI Countryman. By April 1, interested customers had to fill out this form attached to this print ad. In return, they would get one part of a MINI Countryman every month. 29,782 parts later… you're all set. Drive on. And it only costs 95 cents (plus postage.)"
6. Sony, Vaio Q – The world's smallest ultrabook
Sony went to a lot of trouble to put together a video for its April Fool's prank – an ultrabook the size of a quarter.
7. Mashable, Conan O'brien takes over
Conan tells all in the video below, "Hello, fellow Mashables. It's Conan O'Brien, and I've got big news. Two hours ago, I purchased Mashable.com. I've taken it over. Why did I take it over? Very simple reason.
I'm sick and tired of scanning the Internet looking for any news about technology: Devices, gadgets, what's coming up, maybe even a rating system for gadgets that are out there. It doesn't exist on the web and it's high time it did.
I go to the Mashable see the atrocious job they're doing. So I decided it's time for me to take it over. That's why, several hours ago, I called Pete Cashmore and I told him, "You're out! Get out! You're through, Cashmore! Through! Get out!"
8. ZDNet, Huwaei buys Sydney Harbour Bridge
ZDNet went with not-very-prolific tech-writer 'Avril Primer', who brought us the news that China's Huawei might be buying Sydney Tower and the Harbour Bridge to create one big mind-controlling radio.
9. Skype, Skype for String
Another throwback to a low-tech solution came from Skype, who launched 'Skype for String'. "All that you'll need is two cups and a piece of string with a minimum bandwidth of 5mm. Skype for String will work with any cup and string, but for the best results, we suggest using a Skype certified set."
10. Gmail – Gmail tap
Special mention to Gmail in the UK, who dreamt up Gmail Tap, a new way to use Gmail with only a two-button keyboard. "Tap into the future of productivity with Gmail Tap for Android and iOS. Double your typing speed with this revolutionary new keyboard."