Top10 Olympic marketing campaigns
With less than one hundred days until the London 2012 Summer Olympics gets underway, news of marketing campaigns is beginning to flow thick and fast. So much so, it's prompted us to look back at successes from days gone by to bring you ten examples of great Olympic marketing campaigns.
Whether hoping to make an impression on a global audience, or simply target sports fans, these Olympic campaigns excel in their cleverness and scale. Some choose to take the offical path to get their brand in the spotlight by paying top dollar for sponsorships, while other brands have found creative ways to position themselves near the aura of the event, instead opting for ambush tactics.
Coca-Cola, official soft drink of the games since 1928
An essay could be written on the involvement Coca-Cola has had with the Olympics over the years, after they first came on board as an official partner in 1928.
The brand's approach has changed in recent times, from marketing the drink as something that athletes drink together after competing, to the approach taken for London's 2012 games, embedding the product in music culture and the fun and hype surrounding the event.
In 1988 Coca-Cola's Olympic advertising featured athletes coming together to share a glass of 'Coca-Cola Classics'
For London 2012, Coca-Cola brought on board English DJ Mark Ronson and pop starlet Katy B to develop a track using sounds from sporting events.
Nike, 'Nike Village' – Atlanta, 1996
Despite never officially sponsoring an Olympic games, Nike has always been an active participant in Olympic-themed ad campaigns. In fact, the brand became notorious for ambush tactics, which it used to great effect during the 1996 Atlanta games. The brand plastered Atlanta's billboards with advertising, distributed Nike flags and banners outside stadiums and erected a 'Nike Village' next door to the official athlete's accommodation.
Samsung, Limited edition Olympics mobile phone – Sydney, 2000
Samsung took on the sponsorship as the official wireless communications partner for the Sydney 2000 Olympic Games, having launched a local telecommunications division a year earlier to rival the likes of Nokia, Ericsson and Motorola. To boost sales of its new handsets, the company developed special edition Olympic mobile phones, and a TVC playing on the national pride around the event. The brand's relationship with the Olympics has continued, maintaining its title as the official phone of the games in 2012 with the Galaxy S III model.
Qantas, Athlete sponsorship and ambush marketing – Sydney, 2000
Qantas banked on Cathy Freeman after she won the World Athletics Championship 400 metre final in 1998, sponsoring her and running Olympic-themed ads without actually engaging in signing her up for Olympic-themed advertising. The airline ran extensive advertising campaigns with her and other members of the Australian Olympics team, such as Suzie O'Neill and Ian Thorpe, as well as running 'Olympics sales' in the lead up to the event. Official airline for the games, Ansett took exception to this, embroiling Qantas in a legal battle over their ambush technique, but it was too late. According to Roy Morgan research, more Australians (42%) thought Qantas was one of the Sydney Olympics corporate sponsors than did Ansett (15%). The newspaper ad below shows how Qantas used the Olympics name, with an asterisk and fine print stating that it wasn't actually an official sponsor that no doubt went unnoticed more often than not. The IOC was to clamp down on non-authorised use of the Olympics name and its trademarks as a result of this and other ambush successes during Sydney's Olympiad.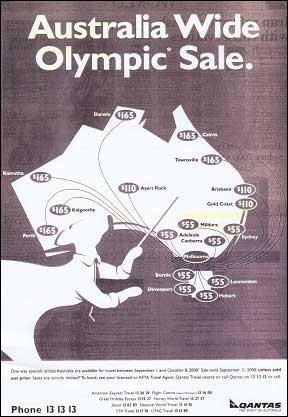 Image credit.
Lenovo, 'Voices Of the Olympic Games' – Beijing, 2008
Lenovo's 'Voices of the Olympic Games' campaign was a social media success, allowing sports fans to experience the games through the eyes of the athletes. The computing brand provided 100 athletes from 25 countries with the technology and support they needed to blog about their experiences at the Beijing Olympics. Engagement with the campaign was high, notching up 10 million impressions for the brand on social media, across their Twitter hashtag #Lenovo2008, athlete's blogs, Flickr and YouTube accounts. According to VP of global web marketing at Lenovo, David Churbuck's blog 1500 athlete contributions were posted, sparking brand mentions across 202 different social media sites and 1.4 million visits to Lenovo's website.
The video below shows athletes sharing their experiences with the blogging during the event.
McDonald's, 'I'm loving it when China wins' – Beijing, 2008
As a sponsor of the Beijing Olympics, McDonald's built most of its global marketing campaign around the idea of people from all over the world coming together in a festival of sport. The company's ads encouraged people to 'Celebrate Olympics with McDonald's'. But within China, where pride in hosting the games was running high and feelings sensitive because of protests and the Sichuan earthquake, a different approach was selected. For its Chinese marketing, McDonald's departed from the themes of unity and friendship to focus on Chinese success. The slogan adopted translated to, 'I'm loving it when China wins', creating a poignant example of the need to localise campaigns for specific markets and a great success for McDonald's.
Visa, 'Go World' – Beijing, 2008 & Vancouver, 2010
'Go World' originally debuted in the United States leading up to the Beijing 2008 Olympic Games. It was then rolled out globally in 2009 in more than 35 countries ahead of the 2010 Vancouver Winter Olympics, and will be used again during this year's London games. The campaign included television, digital, out-of-home, social media and incentive promotions to connect with cardholders and fans. The campaign continues with a collection of videos featuring 'Team Visa Olympic athletes' forming the social media centrepoint for 2012's event. Visa has signed on as an official Olympic sponsorship through to 2020.
The Go World campaign went global for Vancouver's 2010 Winter Olympics with TVCs such as the following.
Adidas, Impossible is Nothing – Beijing, 2008
Adidas captured the groundswell of support and new interest in sport among the Chinese by featuring local sporting stars in this TVC, online and print campaign. Well known Chinese Olympic athletes including a female basketballer were used to broaden the appeal of getting involved in sport to the broader population.
Lululemon, 'Cool Sporting Event That Takes Place in British Columbia Between 2009 & 2011 Edition' clothing line – Vancouver, 2010
Sports apparel brand Lululemon was scolded by the IOC for its cheeky 'Cool Sporting Event That Takes Place in British Columbia Between 2009 & 2011 Edition' clothing line. The IOC called it ambush marketing, we call it clever.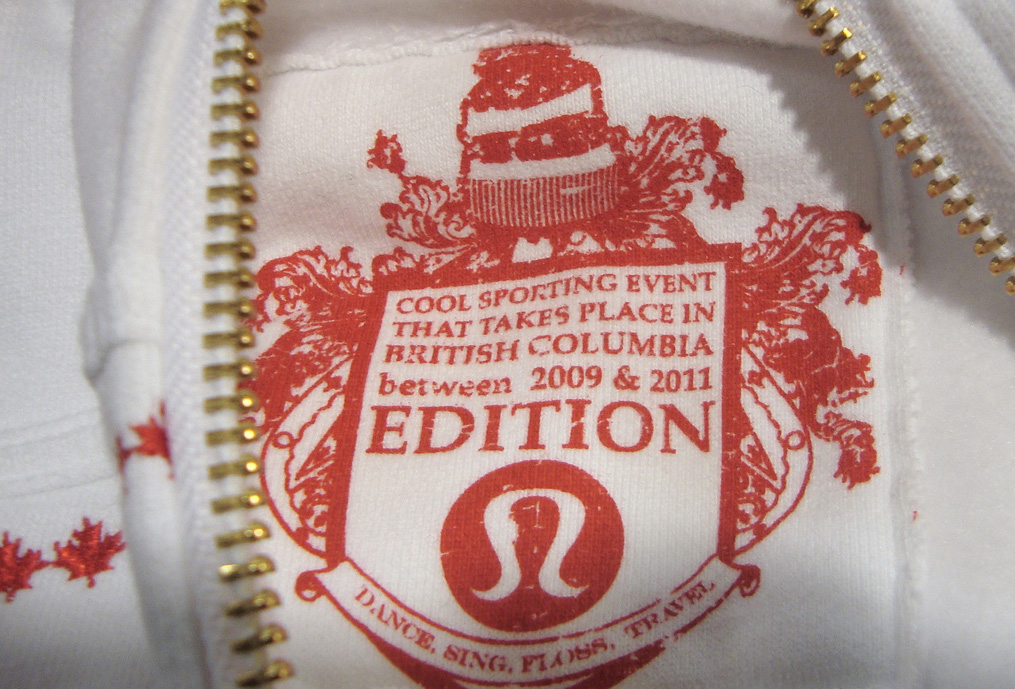 Panasonic, 3D TV launch – Vancouver, 2010
Official technology sponsor of the Vancouver 2010 Winter Olympics, Panasonic took the opportunity to debut its home 3D HD plasma TV at the games. The brand sought to use the sporting event as a showcase of how the 3D technology can bring the viewer close to the action. It also sponsored athletes to blog using Panasonic video and online technology, in a major marketing push during the event.
Remember any other fantastic ads or broader campaigns from recent Olympic games? Reminisce with us in the comment field below.