Virtual marketplace Etsy gets physical in Sydney for Christmas 2013 campaign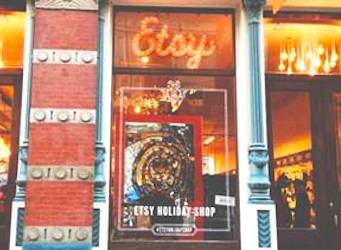 Etsy, the online marketplace to sell handmade and unique goods, will open the doors to a Christmas pop-up shop in central Sydney on Thursday.
For 15 days Etsy is bringing its virtual marketplace to life, selling gifts from Etsy's global community of artists, designers and vintage curators across a range of categories including jewellery, art, fashion, kidswear, quality vintage items and homewares.
Shoppers will also have a chance to take part in events and DIY workshops, and witness demonstrations of skilled craftsmanship from local artists and Etsy sellers, including: flower bomb and ceramics workshops, and and Etsy Dudes event with free haircuts from a professional barber.
The pop-up is part of Etsy's wider Christmas campaign, encouraging consumers to choose one-of-a-kind, thoughtful gifts this holiday season and support the tens of thousands of Australians who sell their products through the marketplace.
Kirsteene Phelan, Etsy marketing manager, says: "We're excited to bring Etsy to life and showcase some of the unique items that are lovingly hand-crafted by talented Australians.
"The pop-up shop will provide inspiration for unique, one-of-a-kind Christmas gifts, and give Sydney-siders a chance to discover items from over 100 local sellers and browse curated collections by their favourite bloggers and stylists."