VTA back-pedals: admits #YourTaxis fail, fires agency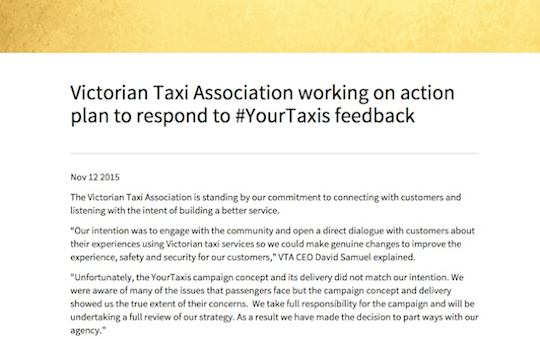 The Victorian Taxi Association has issued a press release admitting the failure of its #YourTaxis campaign, which was hijacked by angry customers on Twitter this week. The organisation has also fired the agency involved.  
"Unfortunately, the YourTaxis campaign concept and its delivery did not match our intention," says VTA CEO David Samuel.
"We were aware of many of the issues that passengers face but the campaign concept and delivery showed us the true extent of their concerns.
"We take full responsibility for the campaign and will be undertaking a full review of our strategy. As a result we have made the decision to part ways with our agency."
Samuel has ordered an "immediate audit" of the campaign.
"Our focus is now on creating an action plan to address the issues that have been raised and be clear with customers about how this information will be used to improve taxi services in Victoria."
On Tuesday, the VTA was standing by the message that the campaign was not an epic fail.
"The response online over the past 24 hours isn't anything we didn't expect," Samuel said in a statement.
Last night, the @yourtaxis Twitter account put the brand in even more hot water with a tweet it later deleted:
"#RememberanceDay [sic] 600,000 taxi trips are taken by war Veterans and widows for treatment purposes. Lest We Forget #YourTaxis"
Not long after, it was replaced by this tweet:
We've deleted an inappropriate tweet. We are reviewing our processes and will be issuing a media statement soon.

— yourtaxis (@yourtaxis) November 11, 2015
In case you missed it, here's our comprehensive coverage of the PR disaster that unfolded this week:
READ: Cabs rank poorly in #YourTaxis campaign car crash »