Want to spend all of your Christmas money on yourself? Harvey Nichols has you covered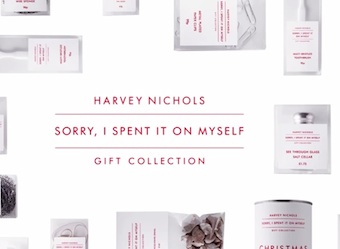 'Tis the season to be jolly, and according to upscale UK department store, Harvey Nichols, it's also the perfect time to become a bit of a scrooge. Its 'Sorry I spent it on myself' Christmas campaign takes a tongue in cheek look at families preferring to spend money on themselves at Christmas rather than one another.
The campaign mixes advertising, social media (via the #SpentItOnMyself hashtag) and in-store promotions by offering ultra cheap joke gifts like paper clips and tooth picks to buy for friends and family – leaving more cash to spend bigger on yourself.
"At this time of year it can be all too easy to get caught up in the spirit of giving," says client marketing director Julia Bowe in Adweek. "Our new 'Sorry, I Spent It On Myself' gift collection will provide our customers with low-cost gifting options for others that will allow them to spoil themselves that little bit more this Christmas."