We need to take better care of each other – Chris Freel on our industry's mental state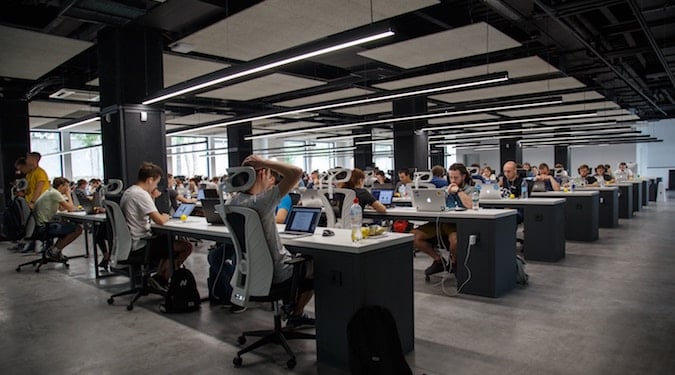 The days of gloating over a working weekend and wearing burnout as a badge of honour are over – people in media, marketing and advertising need to take better care of one another. Chris Freel knows how.
This article originally appeared in The Nurture Issue, Marketing's current print issue.
One dictionary's definition of nurture is "to care for or protect (something or someone) while they are growing".
I just love the word. It immediately makes me feel warm, a sense of responsibility and a feeling of community. It makes me think of home-cooked Sunday roast dinners by the fire on a cold English winter's day. It makes me think of cuddling up to my two boys on the sofa, keeping them cosy and safe. It makes me think of growth, of planting a seed and tending to it as it develops into a plant.
It evokes very positive thoughts and feelings for me. If we were all more focused on nurturing each other, wouldn't the world be a much happier and more productive place? In many ways, across the marketing, media and advertising industry, I feel that we are nurturing. 
In the workplace, mentoring opportunities are abundant. Many organisations have a program that enables internal or external mentoring for some or all their staff. The mentoring program I experienced at Fairfax was brilliant and gave access to, and support from, some incredible people.
Feedback is also constant and progressive, it's there to be embraced and aims to help someone grow. During my time at Pandora Music, I recall our quarterly feedback sessions which touched on hits, misses, tone and tempo and lessons learned. The more casual, musical rhetoric lent itself to a more productive session that did help people to grow. It was more like a leisurely jam than being called to the principal's office to go through the dreaded annual report card.
Training, conferences and opportunities to learn are also available everywhere. I reckon if you wanted to, you could access a relevant training event or opportunity every day of the year in any of the major Australian markets. Whether it's being offered via trade press, industry bodies, event organisations, within your own organisation or even through UnLtd, there's just so much activity happening, designed to support and nurture those working in our industry.
Finally, there's the 'offsite'. Seriously, how many offsites have you been on this year? Some people that I know hardly ever seem to be 'onsite'. How does anybody ever get any actual work done? When it comes to learning and development, I feel that our industry is very nurturing to its people.
However, it is the other side of nurture that I am keen to focus on for this article. The definition reads 'care for or protect'. While we do provide so much technical based support, it is only recently that we have really opened the conversation on a more human level. How are we caring for each other when it comes to the more challenging and personal areas?
The survey that UnLtd conducted in conjunction with Everymind and Never Not Creative at the end of 2018 revealed that people within the media, marketing and creative industry are more likely to show signs of mental illness, with 56% of respondents showing mild-to-severe symptoms of depression compared to the national average of 36%. This indicates that we really aren't nurturing each other anywhere near as much as we should be. I think we all need to look after each other more. I know that we can be fiercely competitive, but I worry that this is coming at a critical cost to individuals and the industry in its entirety.
If we want our craft and its people to continue to grow and blossom, and if we want to attract new talent into it, then surely it is time for all of us to step up and take an active role in 'collective nurturism'.
Here are four ways that I think we can help to reduce the levels of anxiety and stress for people in our industry and make the marketing, advertising and creative world a great one.
1. Celebrate the good
As an industry, we often have a bad habit of focusing on doom and gloom. Whether it's more redundancies, data transparency issues, a declining ad market or some other scandal, the language that we often use through this narrative is negative and defeatist.
The positive work being done falls below the fold. How does this make people feel? As somebody who has operated in publishing environments for more than two decades, I am aware that eyeballs often follow more negative stories, but I feel this overarching cloud doesn't help to set a positive mood and tone over the industry.
2. Change what we brag about
Traditional metrics of time spent versus quality of output need to be eradicated. The days of bragging about working all weekend to get that pitch response out are gone. How we burned the candle at both ends so that we were seen to be committed. A 'win at all cost' mentality. Let's continue to celebrate good work but also highlight and celebrate flexibility, diversity and equality.
Quality over quantity has always been a winning formula of mine. People have lives, friends and families outside work and need to be able to be present. I am proud to look after my five-year-old every Friday morning and much more productive in all areas because of that flexibility. Our team gets so much more done by working at home on Mondays. Small things often go a long way and often end up with much better outputs all round.
3. Share stories
I love the recent work that PHD did with our friend Mitch Wallis. Off the back of the UnLtd Mentally Heathy event, they published an e-book of mental health stories from within the agency. Showing and sharing our vulnerability as people, leaders and colleagues is powerful. It is also very brave and takes a lot for individuals to expose very personal details about themselves. Most of all, sharing our vulnerability shows that it is OK to not be OK and creates an environment in which people feel much more at ease talking to each other about that.
Related: Industry CEOs open up to eliminate stigma about mental health »
4. Minimum standards
It's time we all reset the benchmark for what we deem as acceptable across the industry. Increasing pressure and strain in recent years has led to tougher working conditions. Off the back of the recent survey, UnLtd and Never Not Creative set up a 'change group' with a broad representation from across the industry. This group is already busy working on many great projects, including this one. The time seems very appropriate to reset that norm to help all of us and we look forward to working with all of you to drive positive change.
Related: The Mentally Healthy Change Group launches industry mental health standards »
At UnLtd, our purpose is to ensure that all young Australians have the best opportunity in life. We do a lot of work with our charity partners and young people at risk, but another key focus of ours is to nurture people within our industry. You may have heard the saying 'charity begins at home'. The industry is our home and if we can help to get it in the best mental shape possible, then collectively we will all be much more capable of changing the world in a positive way.
Marketing is proud to have UnLtd as a Content Partner. We urge you to visit unltd.org.au and get involved.
Further Reading:
More from Chris Freel:
* * * * *
Want more Marketing?
* * * * *
Image credit: Alex Kotliarskyi