What's inside the December/January issue of Marketing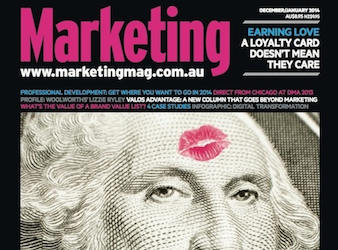 The latest issue of Marketing has hit news stands and here is a little of what you can expect…
Feature: What makes these brands better than yours? 
Coca-Cola was knocked off the top of Interbrand's annual 'Best Global  Brands List' for 2013 after 13 years on top. We look deeper and ask: what makes a brand valuable? What role does brand leadership play?  And, do lists like this even matter?
Feature: Earning love
With Australian marketing dollars flooding into loyalty programs, Belle Kwan investigates the future (and present) of the modern loyalty program, finds the balance between give and take, and reveals which organisations are winning the race for share of hearts and wallets.
Report: Direct from Chicago
From the annual conference of the Direct Marketing Association in Chicago, Frank Chamberlin reports that with the value of consumer data reaching US$150 billion and accounting for 700,000 jobs last year, the American association may well follow ADMA's lead and change its name.
NEW: The Valos Advantage: beyond marketing
We kick off a regular column for CMOs that goes beyond marketing and investigates both the skills side and the 'soft' side of marketing and business leadership. It's penned by Michael Valos, drawing on his networks and regular roundtable discussions with CMOs.
Career profile: Lizzie Ryley, Woolworths
She has one of the most powerful gigs in Australian marketing, and Woolworths' general manager of customer loyalty and judge on Channel Ten's Recipe to Riches, Elizabeth Ryley, has taken a fascinating path to get there.
Professional development: Building the great modern marketer
Digital skills are in demand – no surprise there – but equally as important are the personal development aspects required of a marketing leader. Cath Vallence explores how marketers can develop the right mix of attributes in themselves and their teams, when capabilities and time are in short supply.
And, of course, there are four brand new case studies, industry insiders give us their two-cents on the world of marketing and much, much more.
With Christmas just around the corner, what a better gift to the marketer you love than the gift of being more awesome at their job? Learn more about our subscription deals for Marketing here »