Where was MacBanks Miranda plan?
The staff of Macquarie Bank last week showed how to turn the standard practice of wasting time forwarding emails into instant fame.
While Channel 7 recorded a live reaction to the Reserve Bank leaving interest rates unchanged, something caught the viewers attention. In the background a Macquarie Bank staff member, David Kiely, is seen chatting with a colleague while flicking through forwarded images of Miranda Kerr.
The incident was perfect viral fodder and the YouTube clip of the broadcast had by 1pm Wednesday 3 February hit around 200,000 views. By 3pm the next day it reached approximately 768,000 views and continues to rise.
To demonstrate the viewer interest, it has received 895 ratings scoring a perfect five stars, with around 682 text comments. This looks to be a topic that will have a bit more momentum than Macquarie Bank would like. The problem for Macquarie Bank is that it is not just a case of people browsing, but engaging, contributing and sharing the video with friends.
The perfect moment is when Kiely receives the email telling him to turn around, and turns to confront the camera focused on his screen.
The question of if he was set up by a colleague is not an issue Im going to comment on, but it is more about the potential damaging ramifications for the Macquarie Bank brand. Being that the event happened around such an important moment in finance, the question arises, shouldnt their staffs focus be on making money for their clients, since it wasnt even casual Friday?
The case is here also about how Macquarie Bank could have moved quickly within social media to possibly control or at least reduce the impact on their brand.
HSBC contacted Marketingmag.com.au to inform us the below advertisement is a spoof and did not originate with the company.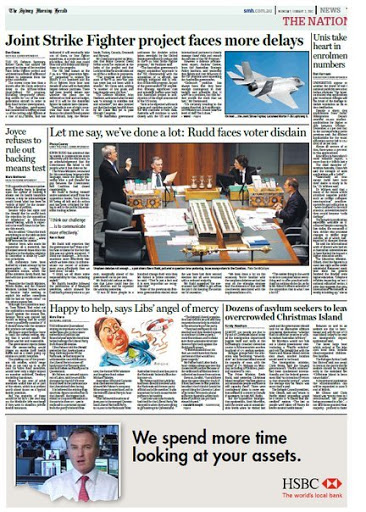 There was a silver lining to the coverage – it helped Miranda Kerr, pushing her seven places to first place on the Bing xRank charts which monitors who the world is most searching for, as in who is hot and who is not.
Using social measurement platform ViralHeat, you can see the spike of interest across twitter and websites for Macquarie Bank since the incident aired.
The point is that any company needs to have some social media or PR plans in place for such an event no matter how obscure or unlikely, you don't want to be in such a place unprepared…