Why are employers increasingly asking job applicants to complete case studies?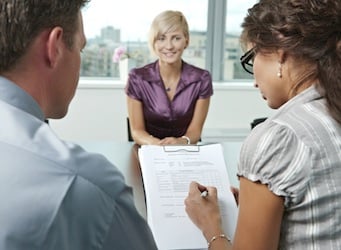 Executive recruitment specialist Christine Khor answers your job-seeker questions. Today's question is: 
"I've noticed in interviewing for a couple of new roles, that employers are asking applicants to complete case studies more often. Why do companies do this? Is it just to get a feel for our insights and thinking?"
You're correct in noticing the increasing frequency of case studies used in the recruitment process. In fact, overall, the recruitment process has changed to include a number of what can seem like 'hurdles' for applicants to go through, including psychological testing, competency testing and multiple interview stages.
Essentially, the reason for this is two-fold: first, companies want to ensure the right person is hired for their vacant role, but second, there is hesitancy when it comes to making the final decision in hiring a new employee.  There is often an underlying fear of getting it wrong, given the cost of having to start a recruitment process again from scratch. Studies indicate that the cost of employing a new person is anywhere from one to three times their annual salary, so it is easy to see how this fear and hesitancy can affect a hiring manager!
Adding the additional step of a case study to the recruitment process can take as much risk out of the equation as possible, and ensures a candidate's commitment and desire to obtain the role.
Personally, I think case studies are a great method of gaining insight into the way a candidate thinks and their ability to problem solve. It's important to remember that in most instances, there is not one correct answer when it comes to case studies. Interviewers are instead looking for a structured or strategic approach to solving a problem and they are assessing your way of communicating the process.
Case studies need to be used in the right way and viewed as part of a holistic process of assessment. Unfortunately, some companies view case studies as a 'hoop' to make candidates jump through, whereby applicants only get to the next stage of the recruitment process if they have excelled at the one before. This can often lead to the best person being disregarded early in the process.
Cases studies can often be very difficult for perfectionists, who worry when they don't have all the information (which is the whole point of a case study) and can focus too much on finding the 'right' solution, rather than understanding that it is the process which is being assessed.
The lengthening of the hiring process through the addition of case studies and testing has had an impact on the efficiency of recruitment, where sometimes great candidates withdraw from long processes, especially when other offers are made from more decisive or intuitive companies.
Like it or not, case studies are becoming the norm. However, instead of perceiving it as another hoop to jump though, use the opportunity to showcase your skills. It is the perfect chance to demonstrate your creativity, problem solving, research and communication skills, putting you ahead of the competition.
Need some career advice? Tweet your questions to @Marketingmag along with the hashtag #hireintelligence.