Woolworths most valuable retail brand in Asia Pacific
Woolworths has topped a list of most valuable retail brands in Asia Pacific released by Interbrand yesterday, while competitor Coles was nowhere to be seen.
The 'Best Retail Brands Report', which combines a variety of measures including brand strength and financial performance, valued the Woolworths brand at US$4.2 billion, almost double that of second-placed brand Uniqlo.
Harvey Norman, Myer and David Jones rounded out the top five with brand values of US$873 million, US$599 million and US$562 million respectively. Over the past year, the value of Woolworths' and Myer's brands increased, while Harvey Norman's and David Jones' decreased.
Coles, which is a consolidated entity, was not included in the study because it doesn't release enough financial information to qualify for Interbrand's criteria.
CEO of Interbrand Australia and New Zealand, Damian Borchok, says, Australian brands performed well on the study in relation to Asian brands which are only just beginning to use brand as a strategy in their respective retail markets.
"The general value of Asia's brands are lower because it's such a fragmented market and building retail brands in Asia is a relatively new thing," Borchok says.
"For Australian retailers facing the toughest marketplace in decades, the study provides some clear signposts towards what will drive success in the future.
"The fusion of physical environments and technology will be key and winning retailers will place greater emphasis on customer insight and customer service. The role of the store will go beyond being a receptacle for merchandise and carrying out transactions; smart retailers are already working out that their stores can deliver memorable and engaging experiences that result in substantial commercial success."
The top retail brand in Asia Pacific for 2012 are: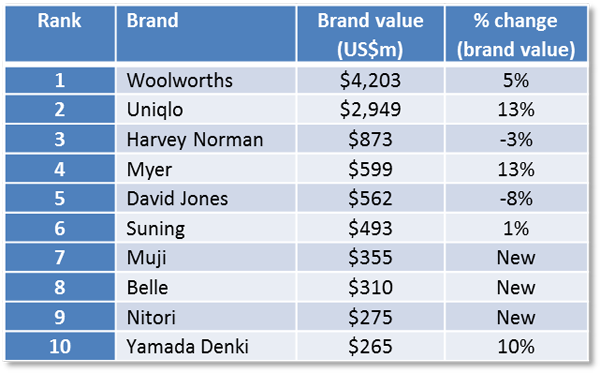 In overseas lists, department store Walmart maintained its number one position in the US, with a brand value just over US$139 billion (down 2% from last year), supermarket Tesco took top honours in the UK, valued at US$11 billion (up 9% on last year), hypermarket Carrefour topped the list in France, grocery giant Aldi in Germany and fast-fashion retailer Zara in Spain. All number-one ranked brands held onto their top spots from 2011's 'Best Retail Brand Report'.
Amazon maintained its position at number nine in the US, and was the largest riser on any of the lists, with a 32% increase to bring its brand value up to US$12.8 billion.
eBay moved into the top 10 for the first time in the US, while other big movers included hardware chain Leroy Merlin (France; up 22%), supermarkets Mercadona (Spain; up 22%) and Lidl (Germany; up 20%), machinery manufacturer Tractor Supply (U.S.; up 18%), and cosmetics retailer Sephora (France; up 18%).
In Asia Pacific, there were three new entrants in 2012's list – Japanese department store Muji, valued at US$355 million, Chinese women's footwear retailer Belle, valued at US$310 million, and Japanese home furnishings supplier Nitori, valued at US$275 million.
The report was launched with a word of advice for retailers – every channel matters in the new landscape. It names the need to be agile, a focus on the path to purchase, every brand is a story, leveraging design to build brand value and the promise of omni-channel retail as the most prominent global retail trends gaining relevancy.
Target, Home Depot, CVS and Best Buy completed the list of the top five brands in the US.

And in the UK, Marks & Spencer, Boots, Asda and Next rounded out the top five.