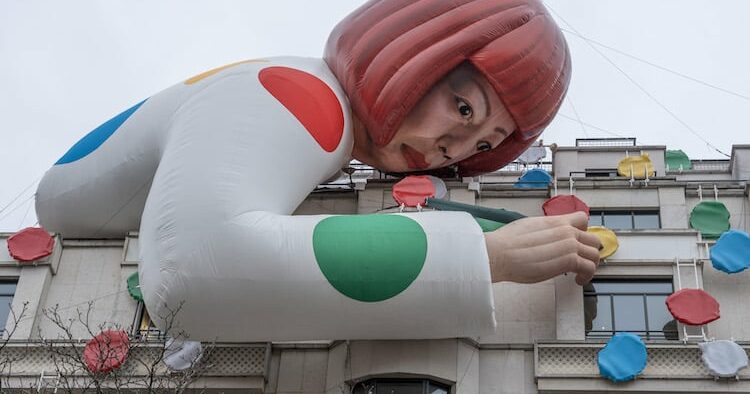 Large activations around the world are being seen in the Yayoi Kusama and Louis Vuitton collaboration. 
The luxury brand has given its Maison Champs-Élysées flagship store in Paris a massive makeover. Kusama's signature design is spread throughout the building which was constructed by Georges Vuitton in 1912. 
The coloured polka dots are covered throughout the terraces. To the left of the timeless building, a giant sculpture of the Japanese artist hovers over the building.
View this post on Instagram
The massive sculpture is placed on the roof, noticeable across the streets of Paris. The art deco structure has one arm hanging over the windows as she appears to paint the dozens of rainbow dots covering the façade.
The brand has redecorated several locations around the world with polka dots and life-like animatronics. These installations are linked to the release of Louis Vuitton's capsule collection which was inspired by Kusama's inspiring creative career. 
But this is not the only location that has received a full art deco Kusama makeover, Tokyo's Louis Vuitton store has remade the window displays in the style of Kusama's pumpkin art. Her signature pattern of black polka dots on a warm yellow background covering the walls and floors. 
View this post on Instagram
In New York, an animatronic of Kusama painting inside the windows has received some criticism – some have appreciated the artistry, some have called it creepy. But, from a far distance it looks identical to the artist. As the slow, deliberate movements  mimicking blinks and movements of its lips displays the magical creation of Kusama's legacy with Louis Vuitton. 
View this post on Instagram
See more from Louis Vuitton with its collaboration with Snapchat.