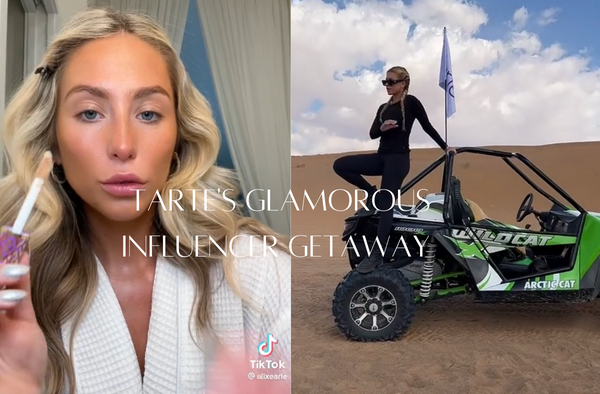 Influencer brand getaways have become bigger and more popular, but Tarte's latest trip has caused a whirlwind of drama about its marketing strategy.
Similar to press tours, brands can choose to organise influencer getaways. These usually involve sending influencers on vacations across the world. Brands invest in these trips to allow influencers to show off their adventures while showcasing the brands' products.
But these luxury brand getaways come with a steep price tag, as brands don't hold back in their spending on extravagant accommodation.
The recent luxury brand trip with major beauty brand Tarte has caused controversy with many people asking questions about the relevancy of the trip to its audience. Twenty-nine influencers and their plus-ones began their journey to Dubai, including big names like Alix Earle (3.9 million TikTok followers), Meredith Duxbury (16.7 million TikTok followers) and Ellie Zeiler (10.8 million TikTok followers).
As these influencers were posting about their luxurious escape to Dubai, people on the internet questioned where the money to support these trips was coming from. In an interview with Glossy, Tarte Cosmetics CEO Maureen Kelly responded to these comments saying, "This isn't our first trip, but I can, of course, understand how people may have a knee-jerk reaction to seeing content overload like this."
Kelly compared the budget for these trips to marketing budgets for the Super Bowl.
"Every day, brands make decisions about how to spend their marketing budgets. For some companies, that means a huge Super Bowl commercial or a multi-million-dollar contract with a famous athlete or celeb. We've never done traditional advertising, and instead we invest in building relationships and building up communities," she says.
Glossy also indicated that, according to a Tarte representative, the trip was the beginning of what the brand will do to market the new foundation. However the representative declined to reveal further plans.
The hashtag #TrippinWithTarte has been shared across the internet and is being described as the free business airfare, meal and stay trip. But some see it as more than that. It has also been an opportunity for other brands to collaborate and get influencer recognition as their rooms were covered with gifts from other like-minded brands, many of which Tarte has partnered with for years.
Kelly told Glossy that she was proud of giving influencers the opportunity to be showered in gifts.
"We partner with tons of small businesses, many of which are female-founded, like The Post and Electric Picks. This is a great opportunity for them to share their talents with their favourite influential people," she says.
Here's more on what's in for influencers in 2023.
Images from Alix Earle TikTok.