Amazon launches 'tweet to buy' feature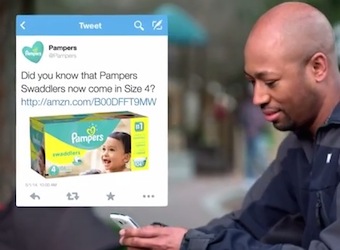 Twitter just got a little more personal.
A new feature launched by Amazon allows tweeters to shop Amazon via hashtag – and lets your followers know all about those nappies you've been purchasing in bulk.
When US Twitter users see tweets containing Amazon product links in their stream, they can add the item to their cart by replying with the hash tag #amazoncart; UK users reply with #amazonbasket.
Shoppers will have to first link their Amazon accounts to their Twitter accounts to use the service, and finalising transactions will still have to be made via the Amazon site.
The move offers Twitter more insight into the buying habits of their users- valuable information for their advertising service, which so far only extends to sponsored tweets.
The service is yet to be offered to Australian users.
http://youtu.be/iAm6pa9hPKA