Aus social network start up to take on Google and Yelp at social search
Australian start up Posse – a social search network for real world places – has taken aim at Google's social search shortcomings and plans to upstage Yelp and Foursquare as a source of recommendations for restaurants, bars and shops.
The network, which launched in beta phase a few months ago, aims to make the task of surfacing recommendations for retailers and other businesses with physical locations easier by leveraging friend networks, rather than relying on reviews lodged by people the user may have nothing in common with.
So confident is founder and CEO Rebekah Campbell in the idea, which has been funded to the tune of $1.2m by well-known Silicon Valley investors, she predicts that it will be bigger than Yelp or Foursquare in a few years' time.
"Posse takes the best elements of Yelp and Foursquare and combines them into something that is more useful, fun and forms a nicer community," Campbell says.
The network will provide another avenue for retailers to engage with consumers and a way for them to track word of mouth, which most identify as their key marketing tool but have no way of tracking.
With Posse, retailers will be able track who recommends them and offer rewards – in the form of gifts or surprises, more so than discounts or virtual currencies, Campbell stresses.
People who join are asked to build a virtual street of their favourite real world places to keep a catalogue of them and share them with friends. When a Facebook friend creates their own street, the users can see each other's favourite places in a virtual town, enabling them to feed off each other's favourite restaurants, bars, shops, gyms, dentists and so on for recommendations of new places to try.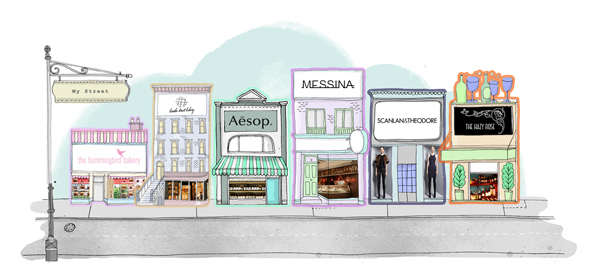 Business nominated as a user's favourite are notified by Posse's systems enabling them to monitor the number of mentions they're receiving. They will also be able to offer gifts to users who favourite them when the site launches in full later in October. Already, almost 5000 businesses have been favourited by the site's 2800 users.
Campbell believes Posse will be able to break through 'social media fatigue' and build a user base due to its potential to revolutionise social search, and by attracting users with offers and the status linked to displaying a knowledge of great places.
Trendwatching.com labels the status derived from being in the know about new places or ideas as 'newism'. In a trend briefing from July, the trend forecaster highlights this emerging trend, writing, "On top of collecting experiences, in a world where everything is transient, keeping one's finger firmly on the pulse of the endless global torrent of new products and services, showing one's connectedness and being in the know, will be an ever-richer source of social status."
Social search is a problem that hasn't yet been solved, Campbell adds, pointing to the poor integration between social networks, Google+ included, and the reviews that appear on Google, Yelp, Foursquare, and even TripAdvisor. While these platforms are rich sources of reviews, it is hard for users to find reviews from friends, people they trust or people similar to themselves.
"To do social search well, the process of adding content needs to be fun and easy," Campbell says. 70% of people who have joined Posse have added content, compared to only 1% of Yelp users have lodged a review.
Posse initially launched in 2010 as a platform for music fans to engage around their favourite bands and gigs. Its change of direction has been funded by Silicon Valley venture capitalist Bill Tai, who also invested in Twitter, Tango and Scribd, and investors including Wotif CEO Robbie Cooke, MTV's global head of sales Dave Sibley and Ebay Motors founder Simon Rothman. It has also received government funding through the Department of Innovation and counts Google Maps creator and Facebook's current director of engineering, Lars Rasmussen, among its Board of Directors.