Branded use of Instagram jumps, desktop photo-sharing site launches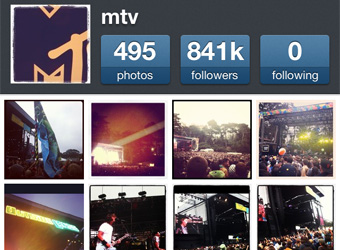 The use of Instagram among the world's biggest brands has jumped 35% in the past three months, with more than one in two now maintaining a presence on the photo-sharing social network.
Analytics firm Simply Measured found that 54 of Intebrand's top 100 'Best Global Brands' now maintain a presence on the Facebook-owned app, up from 40 since the study was last conducted in August.
The findings come as Instagram, which boats 100 million users, launches a desktop site to continue to fuel its growth. In a blog post loaded overnight the service announced Instagram profiles that will show a profile photo, cover photo and a selection of recent images will be available on desktop over the next few days.
Among marketers, the site still sits behind Facebook, Twitter, Google+ and Pinterest as a communication tool, all of which boast higher branded use among the top brands than Instagram.
But, Simply Measured says, "Instagram has graduated from a 'fun new social network' to an integral component for marketing in the social space."
The big brands that have ventured into the space have for the most maintined their presence, with all but five remaining active. Eight of the brands command a follower base of more than 100,000, while 18 have attracted over 20,000 fans, showing significant growth since August.
Music channel MTV continues to have the most followers on 995,000, just ahead of Starbucks, which has 877,000 followers. Burberry placed third on 557,000, an impressive 82% boost since August, while Nike followed on 527,000, also with a significant jump of 101% in the past three months.
In terms of engagement, MTV also topped the stakes with 2.3 million 'likes' and 43,000 comments from 546 photos. Nike's 473 images delivered roughly the same number of likes and 28,000 comments.
The knock-on effect of Instagram images could be seen through prolific sharing on both Facebook and Twitter, with 93% of the sample of 2533 images also shared on Facebook, and 60% shared on Twitter.
While Valencia was the most loved filter during the August quarter, Hefe won out this time around, garnering the highest number of likes.