Chanel No5 and Baz Lurhmann team up again on branded content piece starring Gisele Bundchen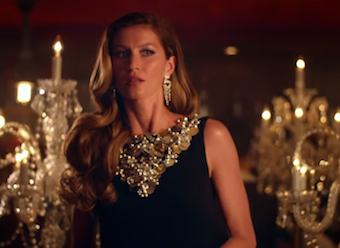 Chanel No5 has released a three-minute branded content video piece starring Brazilian supermodel Gisele Bundchen and directed by Baz Lurhmann.
The new film follows in the footsteps of the brand's 2005 piece 'the movie' with Nicole Kidman, a spin-off of the Moulin Rouge film also directed by Lurhmann.
In a similar epic style, 'The one that I want', set to a slowed-down version of the Grease tune, follows the daily life of today's Chanel No. 5 woman, personified by Bundchen.
Throughout the film the supermodel transitions from her roles as a surfer, mother, working model and, of course, lover.
In a film explaining the film, Lurhmann describes Bundchen's character:
"The big thing for us is, how is the Chanel woman that we focused on 10 years ago, how is she different now 10 years later? We're in a moment where the Chanel woman should be someone that can be with herself on a beach or have a moment to herself, can be with her child or children, can have an aspirational career where she does something that she finds fulfilling, but at the same time she can have a true relationship, but also can have romance. And in the end, our Chanel woman chooses love."