Consumers using Facebook 8.5 hours a week but just 32% follow brands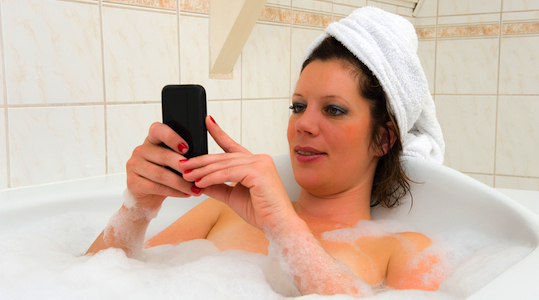 Facebook users are spending the equivalent of one full working day on the site every week, with a quarter of people checking it more than five times a day, including at work and on the toilet, the latest Sensis Social Media Report shows.
The 2015 Sensis survey of 800 Australian consumers and 1100 Australian businesses found consumers using Facebook average 8.5 hours on the site every week. 24% of respondents admit to checking their Facebook more than five times a day, an increase from 19% who reported doing so last year. 70% of users access social media via their smartphones.
The number of Australians accessing social media early in the morning and at work has risen this year. The most common times to use social media are, in order:
First thing in the morning (45%),
last thing before bed (41%),
after work/in the evening (40%),
during work (32%),
during breaks (27%),
lunchtime (23%), and
while commuting (20%).
The most common places in the house to access social media are, in order:
Lounge/living room (72%),
bedroom (43%),
study (35%),
kitchen (24%),
bathroom (14%), and
toilet (14%).
Consumer reaction to brands on social media
Social media remains social for the majority – 68% of users with a social media profile say they mainly use it to catch up with friends and family.
32% follow brands and businesses, 20% access offers and promotions and 19% conduct research about products and services they want to buy.
Half of the respondents who said they used social media to research products and services reported making a purchase, and two thirds of them did so online.
Regarding advertising and sponsored posts:
32% like seeing sponsored posts from businesses they follow,
38% don't mind seeing ads, and
42% occasionally click on ads to find out more.
"This suggests paid advertising or sponsorship is reasonably effective for targeting consumers of interest although it's likely to be ignored by many," the report says.
Businesses on social media
Businesses with a social media presence make up 30% of small businesses, 31% of medium businesses and 56% of large businesses – a shortfall compared with 68% of consumers who are using social media.
Nearly all of these businesses have a Facebook profile, with Twitter and LinkedIn being the next most popular but more prevalent in larger businesses. Instagram's popularity has increased to 10% of small and medium businesses from 6% last year.
About nine in 10 manage their profiles internally, a task usually taken on by the business owner in small businesses or the marketing department in medium and large businesses.
25% of business respondents to the survey had tried paid advertising, and 69% believe it was effective.
The report highlighted the following issues for businesses regarding social media:
49% of SMEs and 45% of large businesses are unable to quantify how much money they have invested into social media,
16% of SMEs and 29% of large businesses measure their ROI from social media, and
80% of SMEs and 37% of large businesses do not have a strategic social media plan.