Where's the beef? Hughesy serves up plant-based kebabs to prank hipsters
Alternative Meat Co has posted a social video featuring comedian Dave Hughes serving up plant-based kebabs to unsuspecting meat eaters.
Comedian Dave Hughes has appeared in disguise as a kebab shop employee in a campaign where he serves up Sydney kebab lovers with plant-based meat alternative kebabs.
The Facebook-led content was designed by agency Poem and is being supported by publicity, Facebook media, content retargeting, native advertising and influencer marketing.
Since posting on Sunday, the video has had 836,000 views, 2700 comments, and 5891 shares.
The Sydneysiders appear to enjoy the kebabs, try to distinguish what meat it is and are surprised to find it's actually a plant-based product.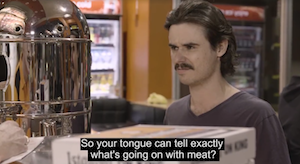 "Gone are the days of Australians eating a steak at every meal. With the nation becoming more health and environmentally conscious, this campaign shows how Aussies can still enjoy the experience of meat with plant alternatives," says Dean Epps, general manager at Life Health Foods Australia, which owns the Alternative Meat Co brand.
The campaign aims to encourage Australians to consider other options, rather than becoming fully vegetarian.
"Our aim was to convince meat eaters that there's a great tasting alternative and to do it in a culturally relevant, entertaining and shareable way," says Rob Lowe, co-founder of Poem, the agency involved.