Designer filters for the selfie-lovers of Sydney in new art gallery outdoor campaign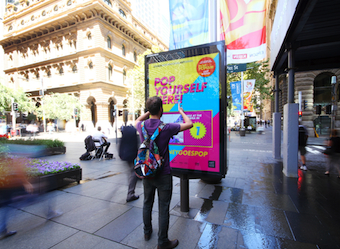 Selfies are being transformed into pop art-inspired artworks as part of the Art Gallery of NSW major summer exhibition, 'Pop to popism'.
JCDecaux Innovate and UM have partnered with the gallery for the outdoor campaign which is putting art on Sydney's streets through selfies.
Targeting the selfie-loving youth audience, the campaign combines iconic imagery of the exhibition with the latest in out-of-home technology.
JCDecaux Innovate and the AGNSW are responsible the custom built panels which feature an in-built camera and digital touchscreen. Selfie masters will have the option to select from a range of filters inspired by works of iconic pop artists, Roy Lichtenstein, Andy Warhol and Australia's Martin Sharp.
"The innovative potential of out-of-home is limitless and the AGNSW campaign was the perfect platform to combine real creativity with the latest technology," says JCDecauz marketing director, Essie Wake.
Participants will have their pop art-inspired selfie instantly emailed to them to share on social media using #sydneygoespop. The best snaps will be uploaded to the AGNSW website and Facebook page.
"The campaign is engaging and rewarding for audiences, allowing them to take home a little piece of the exhibition via true online/offline out-of-home integration", says Wake.
As part of the Sydney International Art Series, 'Pop to popism' will exclusively to Sydney until March 1, 2015. The exhibition is a comprehensive survey of pop art with more than 200 works from 70 of pop's greatest artists, including Warhol, Lichtenstein, Whiteley, Koons and Sherman.