Facebook advertising about to break the $5b mark
Facebook's worldwide ad revenues will crack the $5 billion mark this year, as the sponsored stories feature for marketers begins to make an impact.
After posting growth of 68% in 2011, Facebook's ad revenues are forecast to increase by more than 60% again in 2012 to reach $5.06 billion, according to digital market insights firm eMarketer.
However, the market insights group predicts growth for the social media giant will slow down to 14% in 2014 as revenues hit the $8 billion mark.
In 2011, eMarketer estimates, 85% of Facebook's global revenues came from ads, with the remainder coming from credits or other sources. By the end of 2012, advertising's share will decrease slightly, to 83% of the total.
This total includes income from Facebook selling its display ad inventory and its sponsored stories, which were introduced in early 2011. Marketing expenditures made by brands on their official Facebook profiles were not included.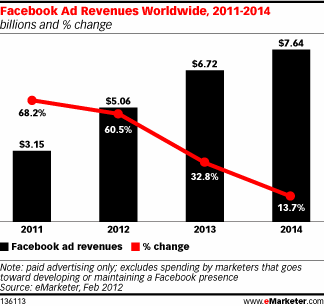 According to Nielsen, the average Facebook users made 30 visits to the site in January and spent a total of eight hours and 13 minutes on the site. Its active reach was 69% of the population, or 15.76 million Australians.
The research forecasts that with high adoption rates in emerging markets, Facebook's user base will continue to boom.